Learn more about polarised sunglasses
When shopping for sunglasses, you might have noticed the popularity of polarised sunglasses. More and more renowned brands and manufacturers are releasing lines of polarised shades and some, like Polaroid, even specialise in polarisation. But what exactly does polarisation do, and what are its benefits? And when should you wear --or not wear-- polarised sunglasses? This short guide will tell you all you need to know.
What is polarisation?
Polarised sunglasses are available in a variety of materials, colours, shapes, and sizes. Generally, darker colours provide higher levels of polarisation. First and foremost, a pair of sunglasses must possess all the necessary UV protection. Then, polarisation adds something more: a special filter that only allows vertically-oriented light to pass through, meaning it eliminates and absorbs horizontally- oriented light.
What precisely is horizontally-oriented light? Well, it's light that's being bounced off horizontal surfaces. Our environment constantly absorbs or reflects sunlight in various directions; any horizontal surface may reflect light that can hinder your vision. For example, think about how snow reflects light into your eyes. Or about how it's hard to see a wet road when the sun is low. Light may also be reflected off water, such as lakes or pools. There are tons of factors in our surroundings that could cause a potentially blinding glare that could become dangerous in certain situations. However, polarised sunglasses have been designed to stop that from happening.
Without polarisation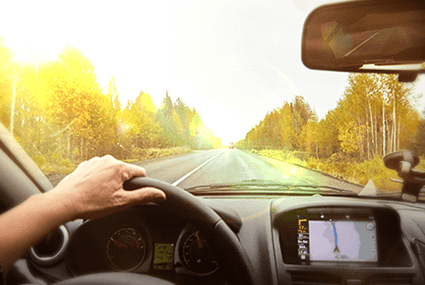 With polarisation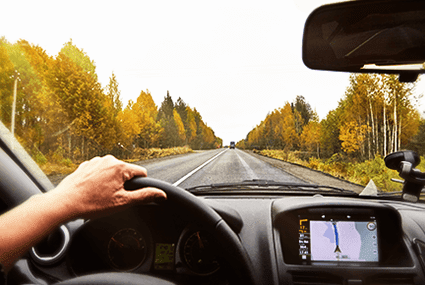 What are the benefits of polarised sunglasses?
They eliminate annoying or blinding glare.
They provide sharper vision and better contrast in intense light situations.
They allow for better colour perception in bright light.
They reduce eye strain caused by glare and intense light.
They improve your comfort while out in the sun.
They prevent potentially dangerous blinding while, for example, driving.
They are an excellent choice for outdoor activities or sports.
They work well in the shade.
What you need to consider when buying polarised shades:
While polarised sunglasses offer many advantages, here's what you need to consider when wearing them:
Polarisation doesn't offer any additional UV protection.
Polarisation is primarily designed to eliminate glare and reflections under intense light conditions.
Polarisation may make it more difficult to see LCD screens.
Crullé: a product line of polarised sunglasses
Whether you're looking for polarised sunglasses that fit an everyday look or need something to fit a stronger fashion sense, Crullé is your brand! Each pair of Crullé combines polarisation with UV protections and style. Their line of shades is available in many different shapes and colours. There's a pair of Crullé glasses perfect for every preference. These stylish and durable glasses come with a low price tag, so try one now!