Turquoise contact lenses - power - TopVue Color (2 lenses)
Free gift worth up to £13.99 for orders over £90.00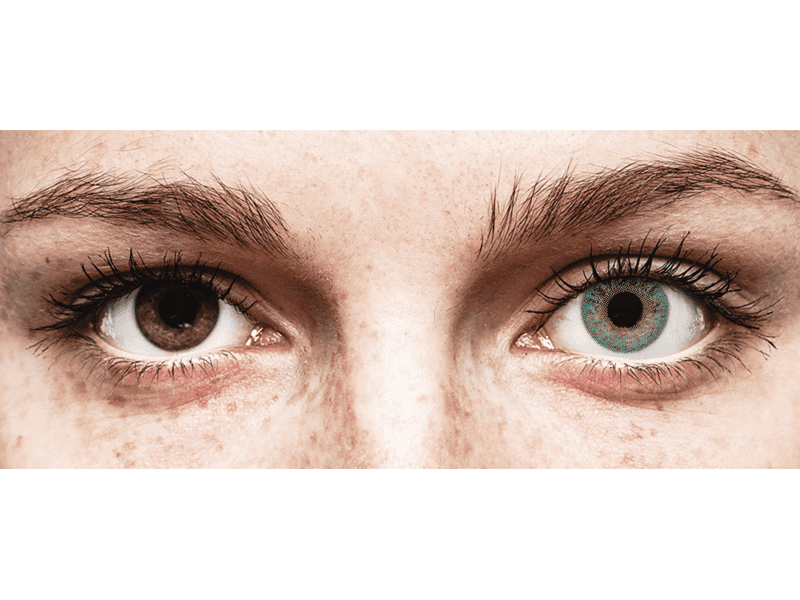 Cosmetic coloured lenses with power
Dioptric coloured lenses are coloured lenses that have a power and are intended to correct your vision. Corrective lenses are typically prescribed by an ophthalmologist or an optometrist. The prescription consists of all the specifications necessary to make the lens. Prescriptions typically include the power specifications of each lens (for each eye). So even when ordering dioptric coloured lenses, you will need to know your prescribed parameters.
Monthly TopVue Color - Turquoise coloured lenses with dioptric power
Turquoise is a great compromise when you can't decide if you want blue or green coloured eyes. These turquoise monthly contact lenses with dioptric correction are perfect for casual everyday wear, or for special occasions. Your eyes will have that beautiful green-blue hue of tropical seawater. Enjoy a natural colour change and a comfortable fit with TopVue Color Turquoise!
TopVue Color lenses with dioptric power
Are you looking for a natural and beautiful eye colour change, combined with a comfortable fit? In that case, TopVue Color lenses are just the thing for you.
TopVue Color are coloured contact lenses with a dioptric correction. They are made from a hydrogel material, which was enriched with an exceptionally effective natural lubricant: sodium hyaluronate. Thanks to this addition and their water content of 55%, TopVue Color are able to maintain a high degree of moisture and provide maximum comfort throughout the entire day.
A rich and deep colour
The colour layers inside TopVue Color contact lenses are applied via 3Tones technology. The lenses have a dark ring around their perimeter that will visually enlarge your eyes. The colour itself is applied in 2 shades, ensuring excellent coverage and a natural effect.
Daily wear and monthly replacement
TopVue Color are designed for daily use with a monthly replacement schedule. They should NOT be worn continuously or while sleeping. Be sure to remove the lenses at the end of each day, disinfect them using multipurpose contact lens solution and store them in a case with some fresh solution overnight.
The resulting colour change
The resulting effect of all coloured contact lenses is to some extent influenced by your natural eye colour. Other factors that can affect the colours are clothing and accessories, as well as lighting conditions.
Properties - Turquoise contact lenses - power - TopVue Color (2 lenses)
| | |
| --- | --- |
| Colour: | Blue, Green |
| Manufacturer: | TopVue |
| BC: | 8.60 |
| DIA: | 14.20 |
| Pack size: | 2 lenses |
| Expiration: | 24 months and more |
| Oxygen permeability: | 28 Dk/t |
| Replacement schedule: | 30 Days |
| Water content: | 55% |
| Power range: | from -10.00 to -1.00 |
| Lenses Material: | Methafilcon A |
| Extended or overnight wear: | No |
| Product name: | TopVue Color |
| UV filter: | Yes |
| Medical Device: | Yes |
Reviews
37

of our customers recommend this product
reviews are not verified