TopVue Elite+ (30 lenses)
£16.69

16.69
£12.89

12.89
Gelone Eye Drops 10 ml
Immediate and long-lasting relief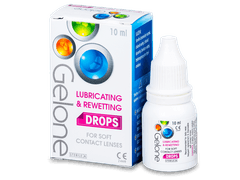 Soothes dry and sensitive eyes
Creates a film that protects the eyes
Can be used on all types of contact lenses
Reviews
70

of our customers recommend this product
Comments (25)
Do you have any questions
Tried these after reading reviews but I couldn't get on with them; they're so thin they folded up when inserting them and then when I did manage to insert it the one in my left eye kept moving about and wouldn't stay put so had to remove and throw away... not recommended 😕
My Daughter just starting contacts She needs base curve 8.70 14.10 Diameter and Right -1.75 and Left -1.50 Is there a branded equivalent ro easyvision serima sphere contact lenses please?
Answer
Hi, Kal, Please contact our customer service department at info@alensa.co.uk.
Thanks, Alensa
Absolutely great. Yes they appear flimsy but that's good as they're thinner in the eye and make them more comfortable I'd love to see them available in varifocal
Don't buy them, I've worn lenses for 20 years and these are certainly the worst. They are truely appalling, particularly as the price point is so high. 1. They are flimsy, so they irritatingly flop on your finger, rolling up. Before you've even worn them, you're annoyed. 2. They are atrociously uncomfortable. They get lost in your eye just glancing away. They come out of your eye just blinking. The edges arrogantly let you know they're there by scratching your eyes. Changing focus is literally a blur. 3. They dry out too quickly. 4. Too many manufacturing faults in the pack, some lenses are so immediately painful they go straight in the bin. You might as well put sand in your eyes. 5. They are misleadingly priced as a premium product which makes them all the more disappointing. I wouldn't wear these again if they were free. That bad, they should not be sold.
Disappointing with the quality of these lenses. The quality is comparable with the Dailies Aqua Comfort Plus but at a greater price. The lenses are uncomfortable and become dislodged at the slightest touch. These are by no means the worst lenses I have worn but they're not a patch on Dailies Total 1's. Despite the higher price tag the Total 1's far exceed these lenses.
looking for daily lenses base curve 8.6 diameter 14 -4.25 and -4
Answer
Hi, We might, in fact, suggest these lenses; a difference of 0.2 for your lens diameter is not terrible (however, as always, we strongly suggest consulting with your local optician to see what would be best for you). However, we might also suggest Clariti: https://www.alensa.co.uk/…ay-30-lenses
Thanks, Alensa
Fantastic. Bought these because of the offer they sent via email. Didn't imagine that they would be this good. They feel absolutely great and my visions is real sharp.
Feel and sit a bit differently on my eye compared to my regular lenses but in terms of vision I can see clearly and they have been pretty decent so far. For the price and speed of delivery I'm fairly happy with them
Good daily lenses, they're easy to put in and are pretty comfortable for most of the day. Quick delivery was a bonus too.
Gave these a go as they were on offer. Solid if not spectacular lenses. Can see clearly, they sit well on my eye and they are a lot cheaper than my regular daily lenses but i'm not sure if i'll make the switch.
Really rubbish lenses. They are very uncomfortable and tear really easily. Was surprised after reading all the good ratings. Thought I'd give them a try due to the price, but feel like I won't even be able to finish the box.
After wearing these over the weekend I decided to leave my first review. The lenses are extremely comfortable and you really notice the extra moisture in the lenses. I wore these all day on Saturday and they're great, you barely notice that they're there.
Bought these for the first time over the Christmas period as I ran out of lenses when travelling to see my family. Have to say i'm really happy that I tried them out. They feel just as comfortable as my other lenses and they stay really moist all day.
Tried the lenses as they are a bit cheaper than the ones recommended by my optician. Have to say I am happy so far, they are just as comfortable and my vision is always clear.
Comfortable daily lenses. Leave them in for the whole day and have no problems.
Switched to these due to the price and have stuck with them ever since. Really comfortable daily lenses that actually last for most of the day.
Good lenses, do the job. No complaints.
Great for everyday use. Tried these and they stay comfortable for the whole day.
Easy to put in, comfortable and delivery was good.
First time I have tried these lenses and I have to say that I'm more than happy with them! Comfortable to wear and delivery was fast!
After almost giving up on contact lenses I tried Top Vue Elite expecting them to irritate my eyes within a few hours just like the four other brands I have tested in the past! But no! These have been the most comfortable by far, and can wear them a lot longer than the others! Would highly recommend.
These lenses are fantastic! They last longer than my previous lenses (easyvision) and are much cheaper! I wear them all day and my eyes are still as moist as when i first put them in! very happy customer :)
I normally buy monthly throw away lenses from activue but after trying these daily throw away lenses I'll definitely switch to these as I forget I have them in they are that great
Since trialing these lenses I'm finding it difficult to continue wearing the bi-weeklies I've been using for the past 2 years, believing they were the most comfortable lenses available. Unfortunately I need to use up the 3 month supply I purchased qualifying me for the 3 pack trial of Top View Elite before I can switch. These lenses wipe the floor with anything else I've tried in 15 years of wearing contacts so hats off to the manufacturer. They offer outstanding comfort for 16 hour wear even for sufferers, like me, of dry eye. My prescription; if wearing eye glasses requires verifocals. Not a problem for these lenses, their corrective properties mean my vision is the sharpest I can ever remember. I wouldn't normally go for dailies but the manufacturer has played a top trump with these and I'll be ordering them next time around without a doubt.