TopVue Daily (30 lenses)
£14.99

14.99
£10.99

10.99
Smart
Alternative
Extra lubrication
UV filter
Money-back Guarantee
Smart
Alternative
Gelone Eye Drops 10 ml
Immediate and long-lasting relief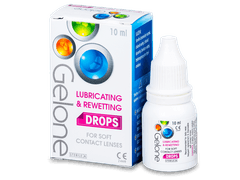 Soothes dry and sensitive eyes
Creates a film that protects the eyes
Can be used on all types of contact lenses
Reviews
41

of our customers recommend this product
Comments (19)
Do you have any questions
Are these lenses suitable for astigmatism?
Answer
Hi, Victoria, These lenses are only for basic correction, and, therefore, are not suitable for an astigmatism.
Thanks, Alensa
Pleased with these lenses. Cheap and handy for daily lenses.
Was previously using specsavors easyvison and swapped to this cheaper contact lens brand. I can honestly say they are much better! Highly recommend.
Hello, do you offer any discount for contact lenses? I'm new to your site and this brand, but would give these a go if you have any offers.
Answer
Dear Harvey, you're welcome to try the TopVue Daily lenses risk free under our money-back guarantee. If you are unsatisfied for any reason, just return 26 unused lenses to us for a full refund. You can read more about the terms of our guarantee here: http://www.alensa.co.uk/…arantee.html
After my 3rd order from you, I'm consistently pleased with the lenses and the service provided. Many thanks.
Cheap and comfortable dailies. Much better than the previous monthly lenses I was wearing.
Wonderful experience shopping with your company. Email replies quickly and delivery swift and hassle-free.
Nice daily lenses. Super price. Makes it easy to stock up without spending a fortune. Very glad I took a chance on topvue :)
Really great product, and great service too. Thank you - Fred
Great service. You were able to split my order so I received the daily lenses before my holiday. Much appreciated.
They took some getting used to, but I'm hooked now. They feel great, and price cannot be beat. Looking forward to placing my next order.
Excellent service; I'm so pleased with my service through your website. I made a mistake with my order, and it was corrected and shipped out within minutes. Thank you!
Superb lenses for the money. I didn't think I could afford daily contacts, but these are budget-friendly and comfortable, as well. #winning
So happy I made the change to daily lenses. I can't believe how much better they feel, and the price is one of the most reasonable i've seen in my research.
I really recommend these for dry eyes. Daily lenses have been a lifesaver for me. I should have tried dailies years ago, but was always put off by the prices. But these are reasonable and the quality seems great.
Fantastic price for daily lenses. Excellent high quality; I'm very satisfied overall.
Came as a free gift with my order. Gotta admit that they are one of the better daily contact lenses.
Never heard about the brand before but test lenses were very comfortable
I prefer dailies because I have sensitive eyes. The problem was that this way of wearing is quite expensive... However now I am satisfied with TopVue. A lower price here does not mean less quality.