TopVue Air Multifocal (6 lenses)
Gelone Eye Drops 10 ml
Immediate and long-lasting relief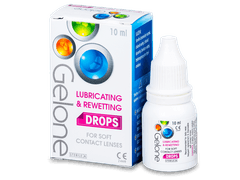 Soothes dry and sensitive eyes
Creates a film that protects the eyes
Can be used on all types of contact lenses
Reviews
38

of our customers recommend this product
Do you have any questions
my script has add 1.50 Distance add 2.00 Near The other site I use to get my monthly multi-focals from has a box where you can choose Near or Distance your site doesn't it just has add power how do I enter my script
Hi, I have dry eyes, I'm interested in buying multi focal contacts lenses Please tell me your recommendation Thanks William
Perfect lens The first one that is so comfortable to wear that I don't notice it Vision also works a lot better for me than it did with comparable lenses Perfect for an active lifestyle
hi why are TopVue Air Multifocal for sale you recommended them to my self last time I ordered they are the worst contacts ive ever put in my eyes took me ages to get them out my eyes my eyes were all blood shot swollen by the time I got them out painful is not the word as for my previous orders Air Optix Aqua are heaven to use easy to put in and out.
Answer
Hi, David, Our recommendations are based on the properties of the product, not the desires of the customer. If a product is similar to another, it will be suggested. If you are able to negatively review your purchase on your account, we may have a function in the future in which that product is no longer advertised to you.
Thanks, Alensa
I only need reading glasses x 1.75 or 2,00, No other correction. What do I order
I have slightly different subscriptions in both eyes I can't seem to select 6.50 in left and 6.75 in right. Because these are a powerful strength , I find it harder to focus close up, would these benefit me? Thanks
Answer
Hi, Darren, We strongly recommend consulting with an optometrist on this matter. Please contact our customer service with any specific questions.
Thanks, Alensa
I purchased 2 x 6 contact lenses from you in November 2018 for £25.68 in total for the 12 , I have just been back on line to reorder and see the price for the same order is now £69.98 . The lenses I am using are TopVue Air Multifocal (6 lenses) at £34.99 for 6 . That is a huge increase can you tell me is this correct ?
Answer
Hi, Simon, Yes, this could be the correct price at this time.
Thanks, Alensa
These lenses are great - most comfortable ive ever used and so cheap! Woyld highly recommend
These are the best multifocal contact lenses for dry eyes, in my opinion. Very comfortable, and easy to wear.
Comfortable and well priced. Can't fault the delivery, either. Entire order process was smooth and efficient.
I'm new to multifocal lenses, but have found these to be comfortable and effective, especially as my eyes are quite dry.