TopVue Air Multifocal (3 lenses)
Add a solution: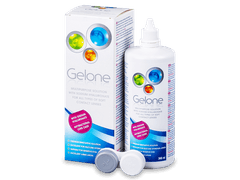 Gelone Solution 360 ml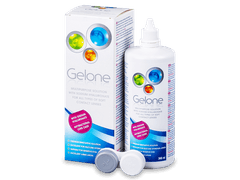 Gelone Solution 360 ml
£7.89
£6.39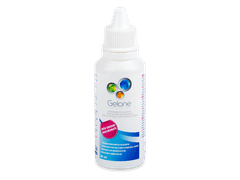 Gelone Solution 50 ml
£2.59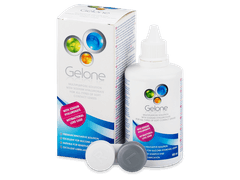 Gelone Solution 100 ml
£4.49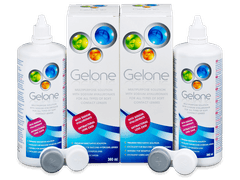 Gelone Solution 2 x 360 ml
£14.99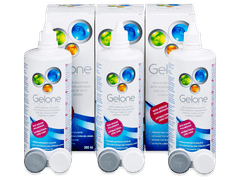 Gelone Solution 3 x 360 ml
£21.85
Other packaging:
Gelone Eye Drops 10 ml
Immediate and long-lasting relief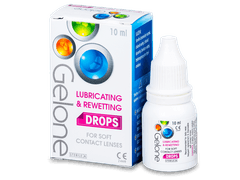 Soothes dry and sensitive eyes
Creates a film that protects the eyes
Can be used on all types of contact lenses
Reviews
44

of our customers recommend this product
Comments (30)
Do you have any questions
I had tried the lenses for the 1st time I usually use biofinity make the first day i had put them in 1 of the lenses had got stuck to my eye i had to visit the opticians for removal of the lense I had left out for 1 week and tried again the same thing happened again with the same eye i have never had this problem prior to using them i have worn lenses for 3 years i would not say they are equivalent to the biofinity make and would not be using them again as the money i had saved i had to pay the optician
I usually wear Biofinity Multifocal. Both eyes have the same power and add power. If the TopVue don't have an N or a D on them how will I know which eye to put them in?
Answer
Hi, Julie, Many lenses do not offer a dominant (D) or non-dominant (N) indication. It is usually not very important as long as the right prescription is applied to the correct eye.
Thanks, Alensa
Hello I usually buy elsewhere but was impressed by your prices, I need multifocal Biofinity lenses, my right lens has a D for distant /dominant (not sure) and s the other has N for near, I cannot find this option on your drop down choices, am I going mad..? Thanks Stewart
Answer
Hi, Stewart, These lenses do not have an indication for Dominant or Non-Dominant eye but should still be fine as long as they are input directly from your prescription.
Thanks, Alensa
Hi, I have CooperVision eyexpert silk lenses for presbyopia; how do the TopVue Air compare with these lenses? Thanks
Answer
Hi, Michael, While TopVue Air lenses are an approximate alternative, they are not identical to Biofinity Multifocal lenses (the branded version of Eyexpert silk lenses). TopVue Air lenses have less oxygen breathability and have slightly less water content. They also have a slightly larger DIA (14.2) than Biofinity (14.0); however, while this difference should not cause any significant discomfort, we always highly encourage consulting with your optometrist. Thanks, Alensa
I usually wear Biofinity Multifocal but your site recommended the cheaper option of Topvue air multifocal. I have very dry eyes, will the Topvue provide the same amount of moisture ?
Answer
Hi, Sarah, Yes, the water content for both of these lenses is about the same - 48% for Biofinity and 45% for TopVue.
Thanks, Alensa
Are these weekly daily or morngy lenses Do you have to take them out every night or are they suitable for continuous wear Thanks
Answer
Hi, Rob, It is generally healthier to take them out at night as bacteria will accumulate and be trapped under the lens above your eye. However, yes, they are monthly lenses with an active life-span of 30 days.
Thanks, Alensa
I usually wear Biofinity Multifocal but your site recommended the cheaper option of Topvue air multifocal. Can you tell me the differences please so I can make an informed choice.
Answer
Hi, Alison, Both are excellent lenses for correcting presbyopia and both have enhanced water-retention for more extended comfort. However, TopVue has the added plus of being more oxygen-permeable - allowing your eye to breathe- and a money-back guarantee: https://www.alensa.co.uk/…arantee.html
Thanks, Alensa
Hi I normally use myopia glasses with astigmatism correction.recently I have to to take off my glasses to see near.without glasses I have no problem in seeing near.can you please recommend what type of contact lens will be good for me?
Answer
Hi, Anirban, You may need multifocal astigmatism. However, we don't currently supply that specific type of lens. We recommend visiting a licensed optician in this case.
Thanks, Alensa
Do these lenses have a handling tint? ?
Can these lenses be left in at night?
Answer
Hi, Tracy, While these lenses are good for 30 days, it is generally healthier to take them out at night, as bacteria will accumulate and be trapped under the lens above your eye.
Thanks, Alensa
Currently, I am using the multifocal biofinity contact lenses and I would like to try the Top Vue air multifocal. Is any change to buy just one pair of contact lenses to have a trial. Many thanks,
Answer
Hi, Paolys, Thank you for your recent comment. Unfortunately, as we are not licensed optometrists, we are unable to off trial lenses or samples. Any lenses you buy will be charged per lowest market price. Please feel free to contact us should you have any further questions.
Have a great day!
How long does each individual lens last
Answer
Thanks for leaving a comment. The lenses have a 30 day replacement schedule.
Can these contacts be worn for day and night?
Many thanks for the free delivery this week. A welcome surprise when one needs to order lenses directly following the holidays!
Much cheaper than the multifocals I found on the high street. Great value, and the lenses arrived within 2 days. Can't complain about the service either.
I'm relatively new to multifocal lenses, but gave these a try after finding my other lenses (that my optician recommended) a bit expensive. So far very pleased with the results - comfortable, and better for my budget.
Very helpful service. I got all the information I needed. Many thanks.
Good communication and simple ordering process. Great first experience with your company.
Nice lenses. Took some getting used to, but overall I've been quite satisfied.
Easy to apply, and quite ok to wear for longer periods of time. I can usually get through 8-9 hours with no dryness.
Superior quality bifocal lenses - prompt delivery - excellent customer service. Overall A+
Great clarity of vision with these lenses. They don't seem to dry out. I appreciate the quick communication from your company, too.
Nice lenses, they seem to be of a high quality. I've had no issues with them, and find them quite comfortable. Excellent service from your side, as well.
I entered my address incorrectly, and your representative contacted me immediately before dispatching to correct it. Otherwise my lenses would have ended up across town. Excellent service and attention to detail.
Very good lenses and prices; my order was delivered the very next day with DHL. Great service.
Excellent lenses- easy to wear. Especially comfortable as they never seem to get dry or blurry.
Finally multifocal lenses that don't break the bank. Very happy I took a chance on this brand. A+++
Nice price, especially for bifocal lenses. Overall I'm quite satisfied.
I normally can't wear lenses for more than a few hours, but these get me through the day with no irritation at all. Excellent product, thanks.
Wonderful lenses, smooth ordering and overall great service. Many thanks.