TopVue Air for Astigmatism (3 lenses)
£14.79

14.79
£12.89

12.89
Add a solution: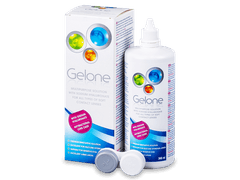 Gelone Solution 360 ml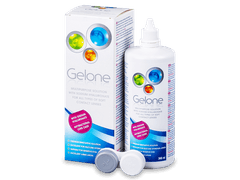 Gelone Solution 360 ml
£7.89
£6.39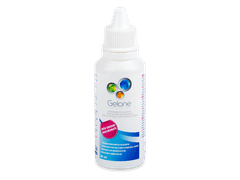 Gelone Solution 50 ml
£2.59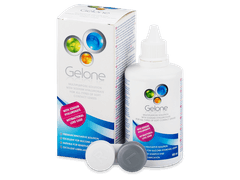 Gelone Solution 100 ml
£4.49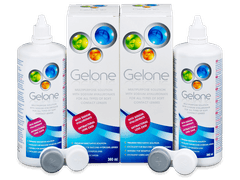 Gelone Solution 2 x 360 ml
£14.99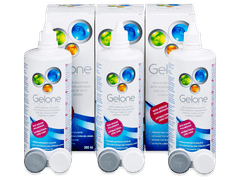 Gelone Solution 3 x 360 ml
£21.85
Gelone Eye Drops 10 ml
Immediate and long-lasting relief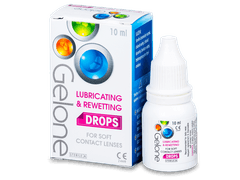 Soothes dry and sensitive eyes
Creates a film that protects the eyes
Can be used on all types of contact lenses
Reviews
109

of our customers recommend this product
Comments (30)
Do you have any questions
Lenses ordered on 11.02. Estimated date of shipping lenses 14.02. On February 13, the package was prepared for shipment. 5 consecutive days have passed and the package has still not been delivered to Royal Mail. Joke....
Answer
Hi,
Please contact our customer service at info@alensa.co.uk, so we can assist you further. Thank you!
Don't buy these lenses. They rear inside your eye, the surface is very thin and fragile. A danger for the eyes.
I bought these as a cheaper alternative to the brand I've been using for years to see if they were as good and could save me some money. I definitely regret this. I have had two lens tear within a week - one after only a day of use. I have been wearing contacts for nearly 7 years and have had very few tear in that time, but to have two tear in 2 weeks negates the affordability and tells me the quality is not as good. They are also uncomfortable, don't sit well in my eyes, and I regularly lose focus in my vision. After a couple of week's use they admittedly seem a little less uncomfortable but I am astounded by the difference in feel and quality compared to the Coopervisions I have had previously. I shall not scrimp on price next time and go back to my old brand. I'd recommend just ordering one of each to try first before committing to these to see if they work for your eyes.
Thought I'd try these lenses after using the Airoptix for Astigmatism lenses for years. Highly regret it. It doesn't sit well on my eye at all and moves constantly. My eyes become bloodshoot and dry and it feels as though a piece of glass is sitting on my eye. After removal, my cornea is damaged and red for weeks Do not recommend this brand at all for those with astigmatisms
Hi, Im new to lenses for astigmatism so excuse if this is a silly question. It says these lenses last for 30 days so am I correct that each lens can be used for 10 days at a time Thanks for your help
Answer
Hi, Christine, It is not a question of toric lenses (lenses for astigmatism), but, rather, their usability time-frame. These are monthly lenses; therefore, with the proper maintenance, each lens should be usable for 30 days. However, after 30 days has passed, it is highly advisable that you appropriately discard them.
Thanks, Alensa
On the boxes of my current contact lenses the BC is 8.50 and the diameter is 14.5. Your website is not giving me the option to change this. Please clarify.
Answer
Hi, Sarah, Slightly different measurements shouldn't be terribly inconvenient; however, it is always advisable to consult with an optician beforehand. We can suggest another product that may be more suitable: https://www.alensa.co.uk/…ism-3-lenses
Thanks, Alensa
Hi I am a new customer and just want to know stock for TopVue Air for Astigmatism (3 lenses it says in stock but then it says Estimated dispatch date 1 piece 6 - 7 weeks Thank you
Answer
Hello, Some of the following lenses with special parameters may be out of stock. When you enter the parameters of lenses you would like to purchase, it will automatically show you whether we have them in stock and what is the dispatch time.
what if your right eye cylinder is 1.50 but theres no option for it? as i need the exact perscription.
Answer
Hi, generally it is possible to select the closest match in terms of cylinder size but we would recommend discussing this with your opticion.
Really comfortable, you really notice the amount of oxygen that passes through the lens. Happy with the purchase as the price is affordable.
Lovely lenses and speedy delivery! ta
Hello, I normally wear Acuvue Oasys for Astigmatism. However, I am finding that my eyes are becoming dry after around 5 hours and becoming red in the corners, despite the use of eye drops and trials of different solutions. I see that the water content in these lenses is higher than the current brand I am using and was therefore wondering whether these would be more comfortable/hydrating?
Answer
Hi Lucy, thank you for your comment. The water content is an important factor in contact lens comfort, as well as oxygen permeability. If the lenses are dry or your eye isn't getting enough oxygen, this can cause the redness and discomfort. TopVue Air do have a higher water content, and their level of oxygen permeability is also exceptionally high. TopVue lenses come with a money-back guarantee, so you are welcome to try them risk-free. If you are unsatisfied, you may return them, and the next step would be to visit your optician for an updated eye exam and further recommendation. http://www.alensa.co.uk/…arantee.html
Great value for astigmatism. I was considering going back to glasses full time, as I just couldn't budget for lenses, but these have saved me. Many thanks.
Easy to use website and great communication throughout the order process. Very impressed with the service.
Lenses arrived quickly and with zero hassle. Thank you for the smooth delivery.
Cheap and effective. Very pleased with this brand. Reordering is a breeze too.
Fast service and excellent communication. The lenses are comfortable and durable. Very satisfied.
Comfortable lenses for astigmatism that don't break the bank. Highly recommended.
Good toric lenses. No problems with comfort or clarity. Overall very pleased.
Very good lenses for astigmatism. Great comfort, and non-drying. Quick delivery and great service all around.
comfortable to wear, and clear vision. impressed with these lenses.
I now prefer this product to any others I have tried. They feel natural and never slip out of place.
I have struggled with other lenses for my astigmatism, but I can wear these comfortably for 10-12 hours with no problems. Excellent lenses.
Great lenses - every bit as good as the acuvue, and better priced, as well.
Very pleased with these lenses, the cost, and overall service I received.
Lenses feel fresh and clean all day, even when I wear them a bit longer than usual. No unnecessary movement of the lenses on my eyes either, which is a plus.
Great quality lenses for the price. They are great for my dry eyes, and I don't have the redness that came with some other toric lenses
Great lenses and affordable price. Can't ask for anything more, thanks!
First contact for astigmatism that I've been able to wear for longer periods of time. Very comfortable to wear.
Pleasantly surprised with these lenses. Good value for the low price.
I've always had problems with floating lenses with my astigmatism, but these seem to solve the problem. Very light and pleasant to wear.