1 / 1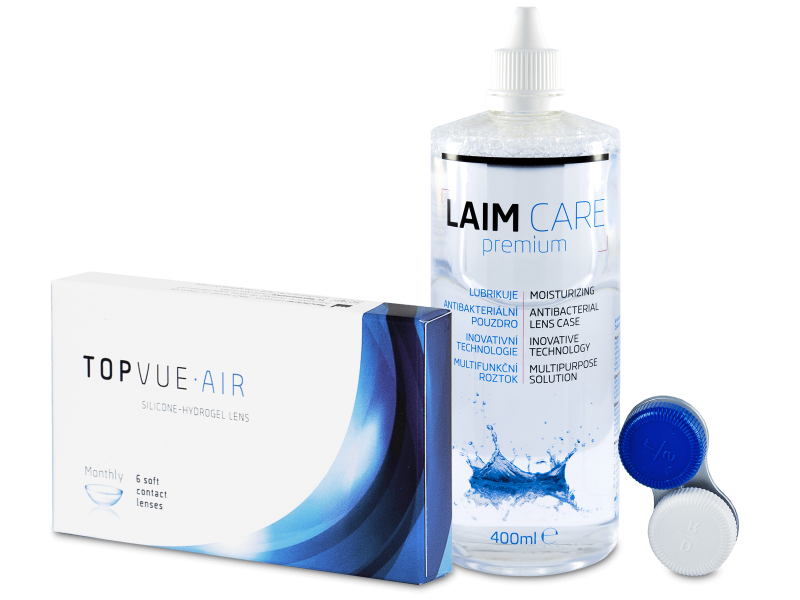 Package deal
TopVue Air (6 lenses) + LAIM-CARE Solution 400 ml
More than 1000 pcs
£27.28
TopVue Air (6 lenses) + LAIM-CARE Solution 400 ml
Free gift worth up to £6.79 for orders over £75.00
TopVue Air Monthly Contact Lenses
TopVue Air are the latest generation of advanced silicone-hydrogel, monthly contact lenses. TopVue lenses are renowned for their exceptional breathability and hydration. Their advanced lens design guarantees unparalleled comfort and clear, healthy vision.
Read more about TopVue Air contact lenses
Laim-Care contact lens solution
Laim-Care is an isotonic, multipurpose cleaning solution for disinfecting and storing all types of soft contact lenses. This innovative solution contains hyaluronic acid, also known as sodium hyaluronate, which is one of the human body's natural lubricating substances. It effectively helps moisturise, clean, and disinfect contacts to ensure all-day comfort and clarity. This package contains one 400 ml bottle of solution and one antibacterial lens case.
Read more about Laim-Care Solution
Properties
| | |
| --- | --- |
| Manufacturer: | TopVue, Schalcon |
| Solution type: | Universal |
| Volume: | 400 ml |
| BC: | 8.60 |
| DIA: | 14.20 |
| Pack size: | 6 lenses |
| Oxygen permeability: | 100 Dk/t |
| Expiration: | 16 months and more, 24 months and more |
| Usability after opening: | 3 months |
| Replacement schedule: | 30 Days |
| Water content: | 45% |
| Power range: | from -12.00 to +8.00 |
| Lenses Material: | Innofilcon A |
| Extended or overnight wear: | No |
| UV filter: | No |
| Product name: | TopVue Air |
| Contains Sodium hyaluronate: | Yes |
Reviews
This product doesn't have many reviews yet
Do you have any questions
Comments
Great lenses - very comfortable to wear.
Comments
Very helpful service when helping me track my order. Very pleased with the overall service and products.
Comments
Laim care is the only solution that seems to work for me. Very satisfied to be able to buy it with the topvue lenses as a package deal.
Comments
Faultless ordering process. Everything easy and I was kept up to date on the status of my order from yourselves and DHL. Excellent.
Comments
So pleased to find my 2 favorite products bundled together. Thanks for saving me the time when ordering. All my orders have arrived promptly and with no hassle.
Comments
Quick and easy - from the ordering, delivery and wearing the lenses. They are very comfortable and can not be felt on the eye.