1 / 3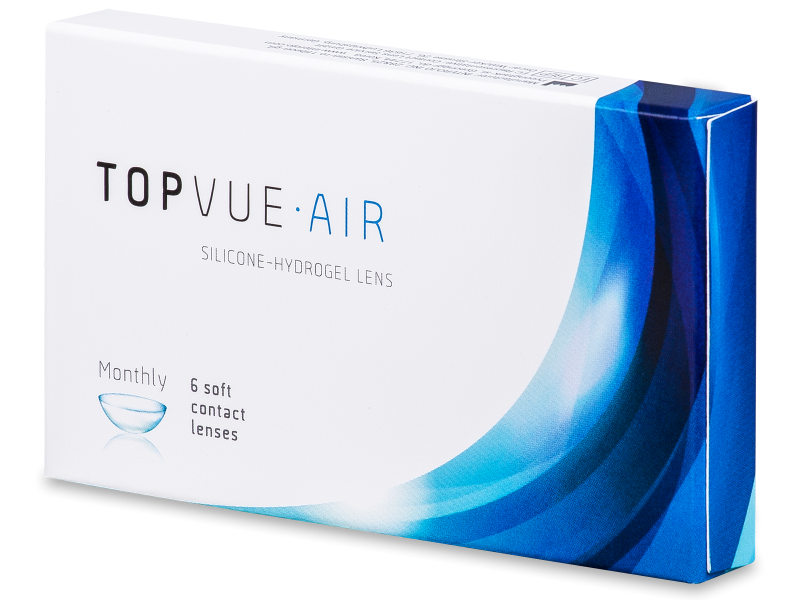 Monthly contact lenses
2 / 3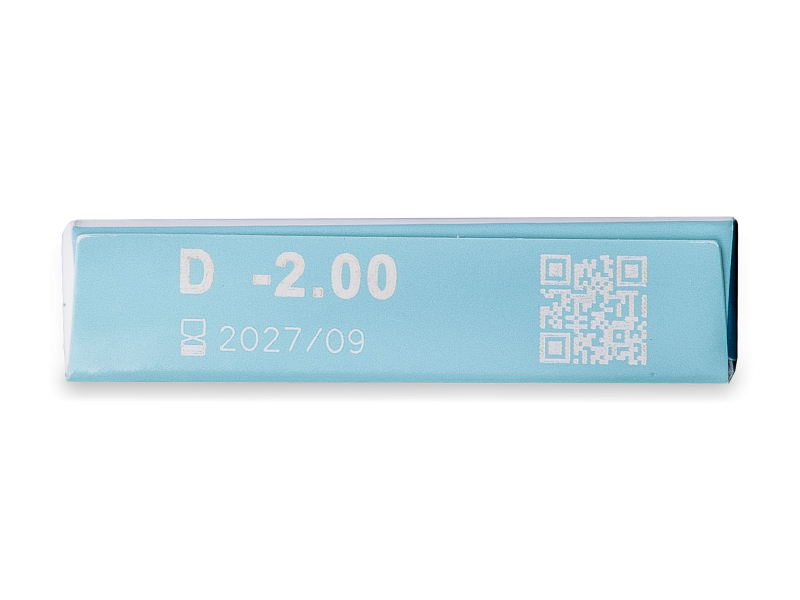 Attributes preview
3 / 3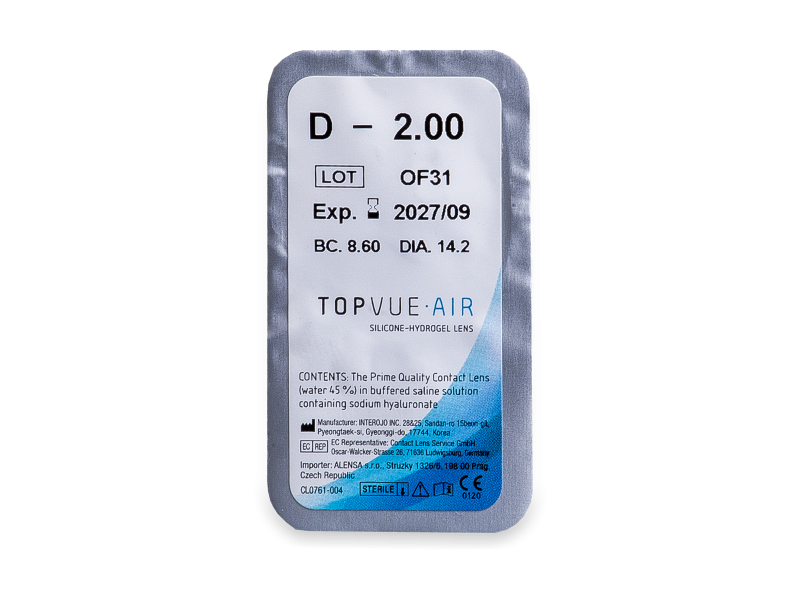 Blister pack preview
TopVue Air (6 lenses)
More than 1000 pcs
£20.89
£20.39
TopVue Air (6 lenses)
£20.89

20.89
£20.39

20.39
Reviews
This product doesn't have many reviews yet
Do you have any questions
Comments
I am super happy. I wore much more expensive brand, but these are a great choice too and very comfortable.
Comments
Patys blogiausi lesiai per savaite jau antras suplysta, nusivyliau...
Comments
I ordered these lenses as I get offer as cheaper alternative for night and day lenses with the same quality, but quality is not as good as night and day lenses. Don't waste your money for cheap product, buy proper ones!!!
Topvue Air 24h?
Can you wear Topvue Air lenses 24 hours a day, without taking them off at night, like Biofinity or do you need to remove them before going to bed?
Answer
Hi, Max, For hygienic purposes, it is always recommended to take your lenses out and to place them in a cleaning solution every night.
Thanks, Alensa
high water content
I always wear air optics night an day but only wear for about 6 hours as eyes are so scratchy an dry so not sure if I should try TopVue air daily's are not a option as I need to replace after I put back in from swimming are they the same water content
Answer
Hi, Gloria, There is a significant increase in water content from Air Optix (24%) to TopVue Air (45%). Please let us know if you have any further questions! Thanks, Alensa
Comments
Can't recommend them. Completly doesn't work for me. Dries very quickly and at night cause flair around lights( annoying while driving). I felt better in standard TopVue lenses even with lower water content and oxygen permeability.
Comments
Notice the difference straight away when using these. Perfect lenses for comfort.
Comments
Great comfort from these. Really breathable lenses and moist too. Can put them in a get on with my day without worrying about them.
Comments
Are these 2 weeks lenses or monthly?
Answer
Hi Jo-anne,
These style of lenses are monthly.
Comments
Can you recommend a solution for Topvue Premium? I've not heard of the brand, but would happily give it a try
Answer
Hi Dave, TopVue lenses are compatible with all multipurpose solutions. We'd suggest Gelone solution – it's an effective cleaner, but still gentle on the eyes. http://www.alensa.co.uk/…ution-360-ml
Comments
i've been a Biofinity believer for loads of years and im quite conservative/loyal in terms of shopping so it was an experiment for me to purchase Topvue air. first of all, the name wasn't so convincing but having seen that there are so many reviews from all the customers (not sure ALL of them are truly customers but anyway,many enough). so decided to buy alongside my regular to-go Biofinity pairs, and now to my surprise, im so satisfied with Top Vue air, haven't had slips on my eyes in mornings due to dryness since i started to wear them. if you're a long time contact lenses user, and need a long lasting yet comfy choice, then i'd defo recommend this.
Comments
Hi quality and comfortable lenses. Very nice upgrade A++
Comments
Nice lenses, very comfortable, and the price is right. Overall great upgrade from my previous biweekly lenses.
Comments
Great lenses, and I appreciate the moneyback guarantee. I ordered the wrong prescription, and didn't realize until I'd opened them. You made the exchange quickly and easily.
Comments
Top notch lenses, and service too. Very pleased with my purchase.
Comments
High quality lenses, and delivered with no hassle at all.
Comments
These topvue lenses have been a wonderful discovery. Budget friendly and comfortable, too.
Comments
My second time ordering these lenses from you. Nice lenses, and smooth ordering process both times. The lenses arrived the next day with DHL. Very pleased with the service
Comments
Comfortable lenses and reasonable price. What more can you ask for?
Comments
These lenses keep my eye moist for whole day wear (I have dry eyes condition). These keep my eyes about the same comfort through out the month. highly recommended!
Comments
Great monthly disposables. Comfortable for long days and easy to care for.
Comments
Superior lenses and excellent customer service. I'm very impressed with your site and your follow-through. The lenses are super comfortable, also.
Comments
I find these even better than the Acuvue Oasis, even if slightly more expensive. Bonus that they seem to be in stock and ready to ship when the Acuvue are not.
Comments
Can't find any fault in these lenses. They're super comfy to wear, and the price is better than comparable brands. Highly recommend them!
Comments
Very comfortable lenses, even in air conditioned environments.
Comments
Always excellent service. And the TopVue lenses are brilliant.
Comments
After a problem with delivery, your representative arranged a re-delivery for me with DHL, which worked perfectly. Excellent follow-through, thank you.
Comments
My eyes can finally breathe! Great product, thank you.
Comments
Gotta agree with Johny. The price is really good for monthly contacts..
Comments
Normal contacts - nothing special - well only special thing that I like about them is the price.
Comments
Tried them for the first time and gotta say that they are pretty close to Biofinity which I have used for years...
Comments
Great to see a new product from topvue. Since changing from my old brand ive never looked back! Still fantastic prices also! Well Done!
Comments
I have just recently changed from my old contact lense perscription to topvue air. I couldn't believe the difference, my eyes do not suffer from dryness anymore. Thankyou to lenses-contact for their help and speedy delivery service.