SofLens Daily Disposable Toric (30 lenses)
Gelone Eye Drops 10 ml
Immediate and long-lasting relief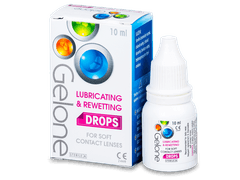 Soothes dry and sensitive eyes
Creates a film that protects the eyes
Can be used on all types of contact lenses
Reviews
40

of our customers recommend this product
Do you have any questions
Hello, I'm looking to order some contact lenses from your astigmatism range but the Axis and Cylinder sizes on your online system do no not match my prescription. Would it be best to go 1 size up or down? Will that make a difference? Many thanks
Answer
Hi Gemma. Please contact our customer service department at info@alensa.co.uk. Thanks, Alensa
Hi I'm interested in these for my 14 year daughter, would it be possible to initially get a small amount ( maybe 5 for each eye ) so she can make sure that she's ok with them. KInd regards
Answer
Hi, Anthony, Unfortunately, as we are not licensed optometrists, we are unable to offer trial lenses. However, if you should order and do not like them, please contact our customer service department at info@alensa.co.uk to see what might be done.
Thanks, Alensa
Recently purchased this brand and found it tricky to wear. Took some time placing it in the eye because it kept creasing/ folding. It also took time to adjust in the eye as it kept moving position when blinking. Then suddenly one disappears and it was such a chore to locate and remove it from my eye. I have used other brands and never had this problem before. Not likely to purchase it again and will next time go back to more known brands which may cost more but comfort and eye safety is priority.
Answer
Dear Aziza, we always recommend to use the brand of lenses you are used to, if there is no particular reason you need to change them, and in case you would like to change your usual brand we cannot guarantee the new lenses will fit you well, this is what you should have discussed with your optician ! At Alensa we only supply quality lenses and we cannot be responsible for discomfort due to a change in brand, however our customer service is always available so do not hesitate to contact us at info@alensa.co.uk
So easy and good having daily toric lenses, especially ones as comfortable as these. Don't have to put a lot of effort into them, just put them in and throw them away at the end of the day.
Excellent price for these lenses. Always the best lenses with SofLens.
I use this lens everyday, always feels comfortable through the whole day. Easy to take care of, and great prices.