SofLens Daily Disposable (90 lenses)
Smart
Alternative
UV filter
Thin and comfortable edges
Money-back Guarantee
Smart
Alternative
Gelone Eye Drops 10 ml
Immediate and long-lasting relief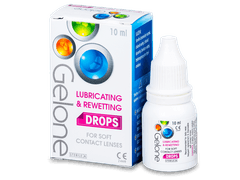 Soothes dry and sensitive eyes
Creates a film that protects the eyes
Can be used on all types of contact lenses
Reviews
399

of our customers recommend this product
Comments (7)
Do you have any questions
WHY ARE YOUR 90 IN A BOX OF BAUSCH & LOMB DAILYS SO MUCH CHEAPER?
Answer
Hi, Peter,
Because it works for us :)
Alensa
My BC is 8.4 but on softlens dailys it is shown as 8.6 and I cannot change it. Will the 8.6 still fit ok or are these unsuitable.
Answer
Hi, Gail,
A difference of 0.2 should still be ok. However, we urge you to consult with your optometrist all the same.
Alensa
I want to order +6.00 for my right eye and +5.50 for my left eye .How do i do this please
Answer
Hi, Donna, You should be able to select those values from the drop-down menu.
Alensa
I use to wear them for past 10 years but power goes to -9 and I currently have -10. Do you have any other daily lenses but with aspheric optics like this that cover power - 10?
Had other daily soflens lenses before switching to these. Always know what you're getting with these, can't complain.
Perfect daily lenses and a good price as well.