SofLens Daily Disposable (30 lenses)
Smart
Alternative
UV filter
Thin and comfortable edges
Money-back Guarantee
Smart
Alternative
Gelone Eye Drops 10 ml
Immediate and long-lasting relief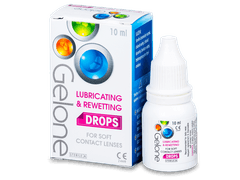 Soothes dry and sensitive eyes
Creates a film that protects the eyes
Can be used on all types of contact lenses
Reviews
274

of our customers recommend this product
Comments (6)
Do you have any questions
Are daily disposable lenses being discontinued?
Answer
Hi,
We do not think so, your parameters however might be out of stock! If you have any more questions, feel free to get in touch at info@alensa.co.uk we will be more than happy to assist!
Good daily lenses for a good price/
Hello there, what is Soflens daily material? Is it silicone hydrogel? TKS.
Answer
Hello Marcus, Soflens Daily Disposable are hydrogel lenses made from a material called hilafilcon b. They have a 59% water content, among the highest on the market.
Hi do you offer Soflens daily contacts for astigmatism?
Best price on the market, and very helpful customer service. Thanks for a pleasant experience.