Proclear Toric (3 lenses)
Smart
Alternative
Effectively corrects astigmatism
Extremely breathable
Money-back Guarantee
Smart
Alternative
Gelone Eye Drops 10 ml
Immediate and long-lasting relief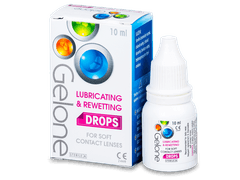 Soothes dry and sensitive eyes
Creates a film that protects the eyes
Can be used on all types of contact lenses
Reviews
126

of our customers recommend this product
Do you have any questions
How do I specify an N type lens with a +2.50 add.
Answer
Hi, Chris, Thank you for your recent comment. Our toric lenses don't come with any high or low powers - simply select your power from the dropdown menu!
Really notice the difference with these. Dry eyes aren't really an issue for me when I wear them. If i ever get dry eyes it's towards the end of the day and I just put some eye drops in and im good.
Really comfortable toric lenses.