Proclear Sphere (6 lenses)
Smart
Alternative
UV filter
High water content
Money-back Guarantee
Smart
Alternative
Gelone Eye Drops 10 ml
Immediate and long-lasting relief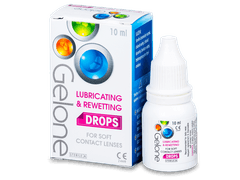 Soothes dry and sensitive eyes
Creates a film that protects the eyes
Can be used on all types of contact lenses
Reviews
341

of our customers recommend this product
Do you have any questions
Thanks goodness for Proclear Sphere - an absolute life saver for someone with -17 eyes (although more like -19, but cannot risk going there yet as too young). These are the only lenses for this sort of prescription, so Alensa 1) please always stock these and 2) if there are any other lenses around the -20 out there can you please advise. Thanks Alensa. Cheers Craig
Answer
Hi Craig. Thank you for your comment! Biofinity XR lenses by CooperVision are also available up to -20.00. However, they have slightly different parameters than the Proclear Sphere lenses, so we would recommend consulting your optician prior to trying them out. Thanks, Alensa
In each ordered packing there are some lenses that irritate the eyes so much that they must be replaced immediately. Why if I buy 6 monthly contact lenses, the whole package is used up in a month. It probably shouldn't be like that. I paid for 6 lenses and not for 2
Answer
Hi, Luna, Please contact our customer service regarding your issue.
Thanks, Alensa
Bought these because i often suffer from dry eyes when in the office. They've performed pretty well so far. I have noticed that my eyes don't seem to be as dry as they usually are.
Hi I suffer from really dry eyes and am also sensitive to day light am a +8 what would be best lense for myself ? X
Answer
Hi Jade,
Proclear Sphere contacts are suitable for those that suffer from dry eyes. TopVue Air is also another option that is likely to be suitable. We would recommend getting a second opinion from your optician also.
Excellent value, and supremely comfortable throughout the day. I can go 12 hours with no irritation.
Only contact lenses I can buy for my almost blind brother with + 18 diopters.. They are really soft and my brother usually has to shorten the wearing period by few days.. Do you sell any other contact lenses with + 18 diopters? Thank you
Answer
Dear Lothar,
+18 PWR is very rare combination and only version of contact lenses we have with this PWR are Proclear Compatibles Sphere you are talking about.
The closest to +18 is Biofinity XR which are made up to +15 PWR.
Kind Regards,
alensa.co.uk team