Proclear 1 Day Multifocal (30 lenses)
Systane Ultra Preservative-Free eye drops 10 ml
Fast acting relief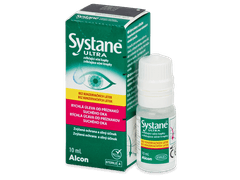 Recommended for dry, tired and irritated eyes
Easy dosing with PureFlow Technology
Can be used with contact lenses
Advanced preservative-free formula
Reviews
73

of our customers recommend this product
Comments (8)
Do you have any questions
Hi…I accidentally hit order review down instead of up but no method of changing ! The proclear dailies I was not impressed with whatsoever. I normally weather monthly contacts which I'm pleased with but I had bought dailies for holiday use .MF I believe is up to 2.50 but I found NO READING BENEFIT whatsoever from them so will be unable to use them a waste of £40 ! I also found them very thin and fiddly to get placed in eye. Distance clarity was very good but overall thumbs down for them Customer service were very helpful answering queries in relation to them .
how do I leave a review for this product
Answer
Hi Alicia. You can rate products you have purchased via the 'my orders' tab on your Alensa account, or you can write a comment as you have already done. Thanks, Alensa
Hi my Multifocal lens is high in the left eye and medium in the right these lenses don't appear to have the option of selecting these strengths.
Answer
Hi Michelle, Unfortunately, for these lenses there is no option to change the add power. If you have any further questions, please don't hesitate to contact our customer service team at info@alensa.co.uk.
proclear multifocal lenses my prescription is Pwr +6 BC 8.6 & DIA 14.2 however I am unable to select 8.6. Please will you advise. thanks
Answer
Hi, A difference of 0.1 for your base curve is not terrible; however, as always, we strongly recommend consulting with your optometrist. In this case, we also recommend SofLens: https://www.alensa.co.uk/…ic-30-lenses
Thanks, Alensa
Having tried other mutlifocal lenses, these are the only ones I get on with. Great sharp vision close up and distance.
Always been a fan of proclear in the past. Happy with these lenses too after recent changes in my eyesight. They fit comfortably and my sight is always clear.
For someone that has used multi-focal glasses, these are exceptional the way they work.
absolutely mindboggling clarity and very comfortable ! Best I've tried by a good margin