MyDay daily disposable (30 lenses)
Smart
Alternative
Extra lubrication
UV filter
Money-back Guarantee
Smart
Alternative
Systane Ultra Preservative-Free eye drops 10 ml
Fast acting relief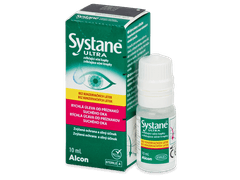 Recommended for dry, tired and irritated eyes
Easy dosing with PureFlow Technology
Can be used with contact lenses
Advanced preservative-free formula
Reviews
118

of our customers recommend this product
Comments (11)
Do you have any questions
I am just trialing 1 day silicone hydrogel from Moorfields but I cannot see anything on the lens to indicate whether it is inside out. My Acuvue moist eye ones have 123 on the rim. How do you define which way. Also I find the container very deep and difficult to get the lens out of. Any hints.
Answer
Hi,
Please contact our customer service at info@alensa.co.uk, so we can assist you further. Thank you!
I was prescribed by visionexpress: My day(pure) toric daily by coopervision. Do you sell these?
Are my day daily disposable lenses available in a toric version? Looking for daily astigmatism lense. thx for the info.
Is it possible to order a myday daily disposable test set? New to daily lenses, and wanted to give these a go first.
Answer
Hi Beverly, although we're not able to offer test sets of the MyDay Daily Disposable lenses, you can try our own TopVue Daily lenses with no risk due to their money-back guarantee. You can find out more about these lenses here: http://www.alensa.co.uk/…ly-30-lenses
The price for Myday daily disposable lenses is significantly lower than what I was paying my optician- is it possible to buy boxes of 90?
Answer
Hi Connor, unfortunately we don't have MyDay Daily Disposable 90 packs available. We have a variety of other brands which are available in packs of 90 at very competitive prices. You can see all of our daily lenses here http://www.alensa.co.uk/…-lenses.html
is it possible to get a myday daily disposable test set? would like to try them for a couple of days if possible. thanks.
Answer
Hi Sarah, Unfortunately only your optician can prescribe trial lenses. However, we offer a money-back guarantee on our TopVue products, so you may return them to us if you are unsatisfied. Try TopVue Daily http://www.alensa.co.uk/…ly-30-lenses
I've always been happy with Coopervision and these are no different. Excellent comfort, and the delivery was quicker than expected, too.
Very thin lenses, but very comfortable. Very happy I tried these.
Extremely comfortable. These are great, especially when working long hours on a computer.