Smart
Alternative
Extra lubrication
UV filter
Money-back Guarantee
Smart
Alternative
Gelone Eye Drops 10 ml
Immediate and long-lasting relief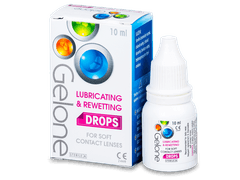 Soothes dry and sensitive eyes
Creates a film that protects the eyes
Can be used on all types of contact lenses
Reviews
29

of our customers recommend this product
Comments (8)
Do you have any questions
Should I be concerned about the low DK/T? The low oxygen madness me nervous but also seems to make my eyes less sensitive.
Answer
Hi Cae. While 19 DK/t is on the lower end in terms of oxygen permeability, everyone's eye care needs are quite different. We recommend consulting an eye care professional to find out if these lenses are right for you. Thanks, Alensa
My current lenses say plus 100 8.6 but diameter 14.1 whereas these say 14.2 >
Answer
Hi, Cherie, A diameter difference of 0.1 shouldn't be too bi of an issue. However, we still recommend consulting with your optician.
Thanks, Alensa
I use these and find them absolutely marvellous. Can't tell I am wearing them, apart from the good sight. The ultra thin pack is original and definitely a good idea. I'm surprised though that they only go up to a 4 most others appear to go to 10. I wonder if that is a packaging issue.
Answer
Hi, Flo, We're happy you're enjoying our product!
Thanks, Alensa
Love them. the process of putting them on is less prone to contamination. the flat pack is amazing to save space. and it was delivered very quickly.
Best contacts I have used
Great if You had it in stock
Good lenses - i tried them from my optician, but am happy to find them online. Packaging couldn't be any smaller or easier to travel with.
Simply astonishing packaging. I didn't think they could be made any smaller. Very pleased with the lenses, also.