Lowest Price Guarantee for Contact Lenses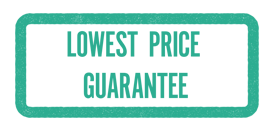 At Alensa, we are committed to offering you the lowest competitive price on the market for contact lenses. If you find a cheaper product elsewhere, please let us know. We will do our best to verify the offer, adjust our price accordingly, and we'll even add a gift for your trouble.
We buy contact lenses in large quantities directly from the world's largest and most reputable manufacturers, including Alcon and Johnson and Johnson. This, combined with our low operating costs, allows us to keep our prices as low as possible and share the savings with you.
Please note that requests must be made before completing your payment. The price of the item can be amended before payment, but we will not issue refunds or adjustments on completed purchases.
Validity will be determined based on complete price, including delivery costs and any relevant fees.
How does it work?
Please ensure the details of the product are identical, including the brand, specific model, and the number of lenses.
Send the details of the product, including URL link to the cheaper product, to info@alensa.co.uk
We will evaluate your query and reply to you promptly with further instructions.
Price adjustment conditions
Inquiry must be sent before completing payment.
Price adjustment applies to contact lenses, drops, and solutions.
Price adjustment applies only to products offered by other authorized UK e-shops.
Competitive price must be stated in GBP/£.
Price adjustment is only valid on another company's original prices, exclusive of promotions, discounts, bulk buys, etc.
Price adjustment restrictions
Cannot be combined with other discounts, promotions or special offers on our site.
Excludes glasses frames, sunglasses and accessories.
Does not apply to opened packages or items sold on auction sites, unauthorized retailers, outlets, or price comparison websites.
Does not apply to products that have been discontinued.
Does not apply to items that are out of stock on our or a competitor's e-shop.
We reserve the right to verify offers and their authenticity. The final decision of validity is ours alone.