Starting with contact lenses or glasses - getting a prescription
If you're considering new glasses or contact lenses, the first step is an eye examination by an optician or eye doctor. They will provide the necessary prescription, whether you plan to purchase eyewear from them or elsewhere. For contact lenses, you'll also have a contact lens fitting, which is a simple and painless process. Here's a brief overview of what to expect:
What to Expect at Your First Eye Exam?
Your first eye examination is an important step in maintaining your visual health and obtaining the right prescription for glasses or contact lenses.
This comprehensive assessment typically begins with a detailed medical history questionnaire, which includes family medical history and information about chronic conditions that may impact your eyes. You'll also provide your eye health history and any previous records if you've seen an eye care professional before. The examination itself involves various tests, such as a visual acuity test to determine your prescription needs, a refraction assessment to fine-tune your prescription, and manual vision field testing to identify any blind spots.
Additional tests, like the slit-lamp examination and indirect ophthalmoscopy, allow your doctor to assess the health of your eyes' internal structures. Finally, pressure evaluation through applanation tonometry or noncontact tonometry helps gauge your risk for conditions like glaucoma. Regular eye exams are essential for maintaining optimal eye health and ensuring clear, comfortable vision.
CAN I USE MY CONTACTS PRESCRIPTION FOR GLASSES?
It's important to note that your prescription for glasses is different from a contact lens prescription.
Different measurements are required to ensure the proper fit of contact lenses because they sit directly on the eyeball. So, if you're interested in switching from glasses to contacts, an eye exam or discussion with your eye doctor is a mandatory first step even if you already have a glasses prescription.
Contact lenses offer many benefits for active lifestyles, and they're now more comfortable and cost-effective than ever. People who play sports and those needing reading glasses love the freedom and flexibility that contact lenses afford. Or, perhaps you simply prefer your own appearance without bulky glasses frames.
Or, maybe you want to get both a pair of glasses as well as some contacts to switch things up when circumstances call for it. Read more about the difference between contact lenses and glasses here.
Glasses Prescription
 
O.D.
O.S.
SPH
-1.50
-1.75
CYL
-1.50
-1.25
AXIS
90
90
ADD
+2.00
+2.00
PD
63
Contact Lens Prescription
 
O.D.
O.S.
BC
-1.50
-1.75
DIA
-1.50
-1.25
SPH
90
180
CYL
+2.00
 

---

 
AXIS
60
 

---

 
REMEMBER TO THINK ON EVERYTHING
Do you work on a computer for many hours a day or travel frequently?
Are you an avid athlete or you spend a lot of time outdoors?
Could your make-up pose a problem when dealing with contacts?
Are you worried about the costs?
The answers to these questions can help your optician determine the best option for you. Maybe all you need is a pair of glasses, or maybe you're a good candidate for extended wear (overnight) lenses, daily disposables, bi-weekly lenses, or monthly contact lenses. Or you might require special toric lenses to correct astigmatism or perhaps even multifocal contact lenses. You'll find out during this evaluation. Read more about the difference between daily or weekly or monthly lenses. Or, learn more about different lens properties and characteristics here.
Getting settled with your glasses or lenses
Getting comfortable with your new eyeglasses is pretty straightforward. Any pair of glasses made in accordance with your prescription should be properly centered during the production process. You'll of course have to get used to wearing them for a while. In case your glasses continue to feel uncomfortable, your optician is often able to adjust them a little, by altering the shape of the temple tips, for example.
It may take a little more time to get used to the contact lenses, but regardless, the whole process should go fairly smoothly. After the initial fitting, and if you're comfortable with the chosen lenses, your optician will evaluate the fit and perform a vision test. You'll likely get some practice inserting and removing the lenses while under the watchful eye of your optician.
Finally, your optician will explain the procedure for lens care basics, offer trial lenses and set a follow-up appointment to assess how you're getting on with the chosen lenses at a later date. During the week or two before your follow-up appointment, you'll have a chance to try out your lenses at home. If you have any trouble or questions arise, call your optician for advice. You can also consult our guide to inserting contact lenses and removing contacts.
Trial lenses
Only your optician is authorized to provide trial lenses, as proper medical care and evaluation is needed when selecting appropriate lenses. It may take a few visits and a few tries to settle on the most appropriate brand and fit for you, but once you and your optician have agreed on a certain brand and wearing schedule, you are free to order the same lenses online from retailers like Alensa, without providing a copy of your prescription. Don't forget to visit your optician for a checkup and prescription update at least once per year!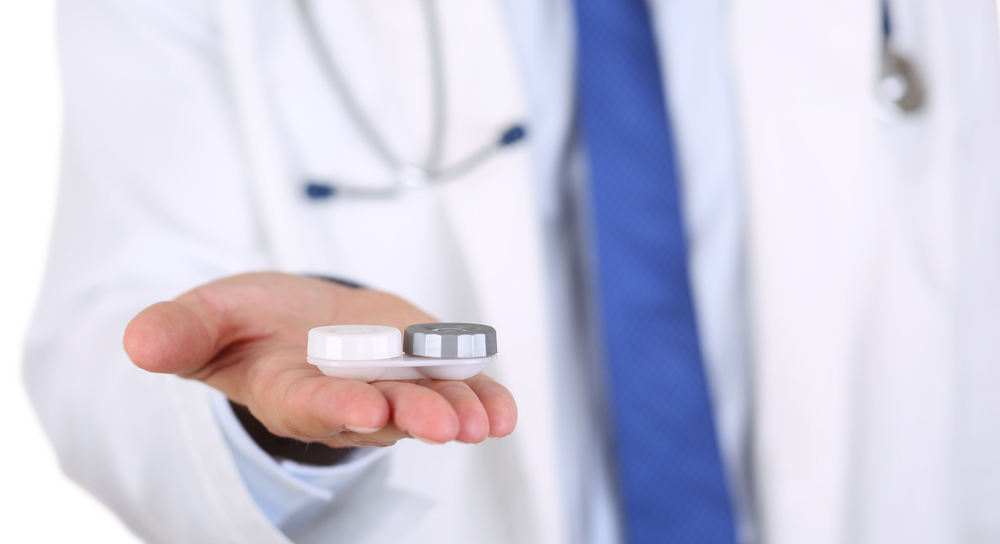 What about coloured lenses?
If you are interested in wearing coloured contact lenses without power for cosmetic purposes (eg. Halloween), it is always advisable to first consult with your optician for a fitting and recommendation, especially if you find you have never worn lenses before, have sensitive eyes or suffer from dry eyes.
A thorough eye exam is also necessary when you decide to wear coloured lenses with power for vision correction.
BUY CRAZY LENSES