1 / 2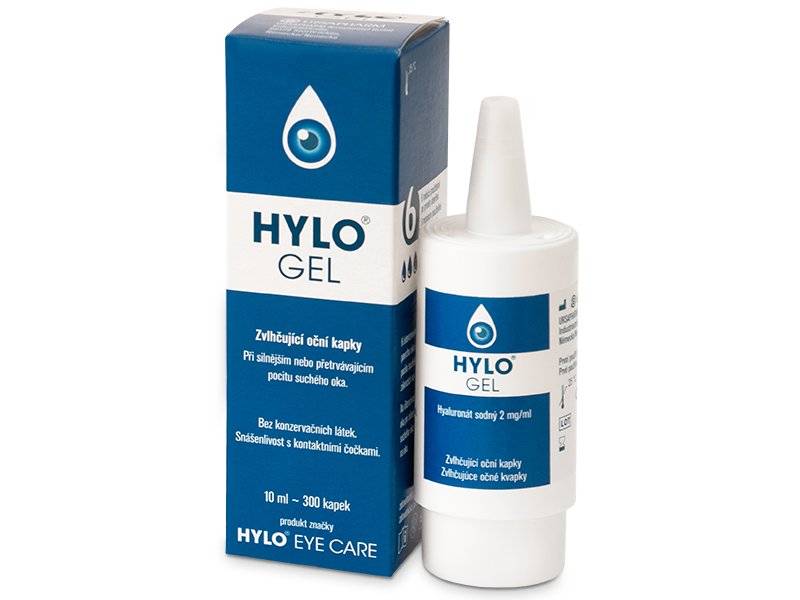 Eye drops
2 / 2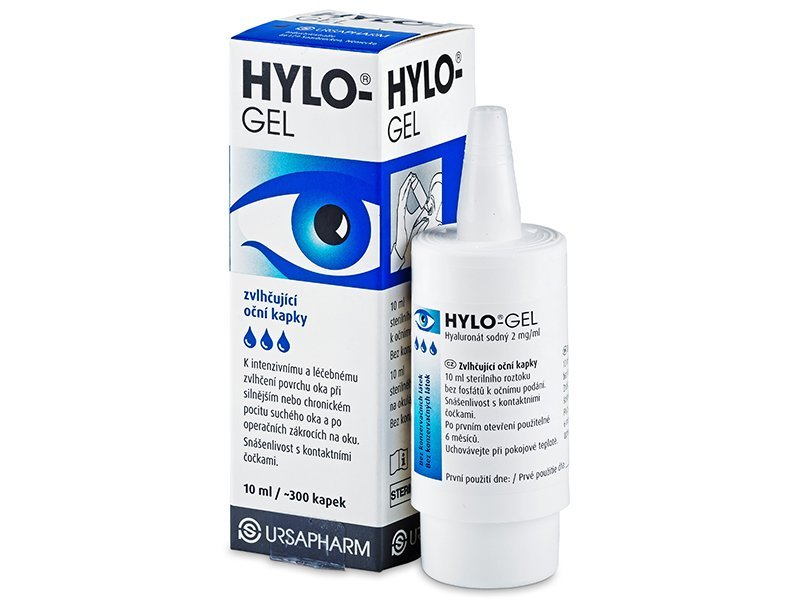 Previous design
HYLO-GEL Eye Drops 10 ml
More than 1000 pcs
£14.99
Free gift worth up to £6.79 for orders over £75.00
HYLO-GEL Moisturising Eye Drops
HYLO GEL are lubricant eye drops with an increased amount of sodium hyaluronate. HYLO-GEL drops were developed by the pharmaceutical company Ursapharm to provide exceptional moisture for chronically dry eyes and after surgical procedures.
Moisture for contact lenses
HYLO-GEL eye drops also effectively lubricate all types of contact lenses. For contact lenses users, we recommend also using a solution containing hyaluronic acid for an even more comfortable feeling – for example Gelone or Laim-Care.
Hyaluronic acid
The drops' increased content of sodium hyaluronate ensures the drops are highly viscous, meaning they will not drip out of your eye after application. They adhere to the surface of the eye, forming a protective cover, which prevents drying of the eye and promotes the ability of cells to regenerate.
No preservatives or phosphates
The absence of preservatives and phosphates eliminates the risk of possible side effects and allows the use of HYLO-GEL eye drops as needed without any restrictions. Their patented application mechanism, COMOD®, prevents contamination from microorganisms and ensures accurate dosing. HYLO-GEL eye drops must be consumed within 6 months of opening the bottle.
Properties
| | |
| --- | --- |
| Manufacturer: | Ursapharm |
| Volume: | 10 ml |
| Usability after opening: | 6 months |
| Expiration: | 6 months and more |
| Contains Sodium hyaluronate: | Yes |
Smart
Alternative
Can be applied even when your lenses are already in your eye
Quick relief from irritation
A long-lasting effect
Smart
Alternative
Reviews
This product doesn't have many reviews yet
Do you have any questions
Delivery to Frane
Do you deliver to France?
Corneal abrassion
Can i use this for corneal abbrasion . Have been using hylo night gel by my opticians but can only now find the ointment and not the gel
Answer
Hi Marianne. In this case, we would recommend consulting your eye care professional prior to choosing an alternative to your usual product. Thanks, Alensa
hylo gel
do you deliver to canada and if yes, what is cost of delivery? thank you
Answer
Hi Gail. Unfortunately, we do not yet deliver to Canada. Thanks, Alensa
Comments
Is this product preservative free?
Answer
Hi Annie. Yes, it is. Thanks, Alensa
I cant choose my address. It does not work.
Answer
Hi Jack. Please contact our customer service department at info@alensa.co.uk. Thanks, Alensa
Shipping
HI do you ship to Jersey in the Channel Islands?
Answer
Hi, Andrew,
We do, in fact, ship to the Channel Islands.
Alensa
Shipping to UK
Will you be shipping to U.K. after Brexit?
Answer
Hi, Yes, we will be.
Alensa
Comments
I have been using drops / gels for dry eyes for past 10 years as I suffer from chronic dry eyes. My eye specialist prescribed Hylo San Dual, which did not provide me with total relief. I tried Hylo Gel last night and in the morning, and for the first time I woke up without burning and painful eyes, and I have not had any pain or dryness throughout today. I very much recommend Hylo Gel. This is the best product for dry eyes nothing better.
Comments
Are they alright for dry and watery eyes?
Answer
Hi, Ruth, Yes, these eye drops are applicable for dry and watery eyes.
Thanks, Alensa
Dry eyes
Are HYLO Gel eye drops available on the NHS.
Answer
Hi, As we are not based in the United Kingdom–and do not know the machinations of the National Health Service– we do not have the capability of answering this specific question.
Thanks, Alensa
Comments
hello Do you ship to Israel?
Answer
Hi, Zafrir, Unfortunately, we do not yet ship to Israel. However, we have very concrete future plans to expand to Israel, so please stay tuned!
Thanks, Alensa
Dry eyes that appear watery
Been suffering from a reflux issue over the past year, but also started getting very dry eyes, but they appear watery. In the sunlight they are sometimes blurry too, so find I need to wear sunglasses more often. I'm a 55 year old female so assume it could b a hormonal trigger.
Where are the English instructions please.?
Although I have used the hi lo gel drops before, Iam not able to open the bottle and can find no English instructions as to how to accomplish this. Help please Thanks Ann Clayton
Answer
Hi, Ann, Please contact our customer service department! Thanks, Alensa
Ordering Hylo Gel
Hi , I actually live in Hong Kong and have to use these drops several times a day due to very dry eyes. My husband is going back to our house in Middlesbrough next week and the Hylo Gel drops are a lot cheaper on your website to what I have to pay in HK . However I couldn't find how to order more than one box on your site . If I ordered 3 boxes what would the postage by Royal Mail be please to our house in the UK please
Answer
Hi, Postage will be £4.90 with a Royal Mail delivery time-frame of 2–3 days, regardless of quantity of boxes ordered. For orders over £49, delivery is free. In order to order more than one box, please select your desired quantity from the drop-down menu which should be on the far left; please note, however, that as long as we have at least one box of your desired power, it will be marked as "in-stock" regardless of the desired quantity. If you would like to know if we have your desired number of boxes in our stock, please email info@alensa.co.uk to be sure.
Thanks, Alensa
Shipping
Hi do you ship to Canada?
Answer
Hi, Tom, Unfortunately, we are currently EU-based, so we would not be able to ship to Canada. However, we are always expanding into new markets, so hopefully we will have more optimistic news for you soon!
Thanks, Alensa
Comparison of Hylo Forte with Hylo Gel
Is the formulation identical for Hylo Forte and Hylo Gel?
Answer
Hi, David, We would have to ask the manufacturer. Please contact Alensa Customer Support.
Thanks, Alensa
Comments
Regular user of eye drops from Hylogel. Fantastic !
Comments
Always order these when i get my lenses. Keep my eyes moist when i'm working long hours.
Comments
Been using these for many a year. Great product.