Grey 3 Tones contact lenses - ColourVue (2 coloured lenses)
Free gift worth up to £13.99 for orders over £90.00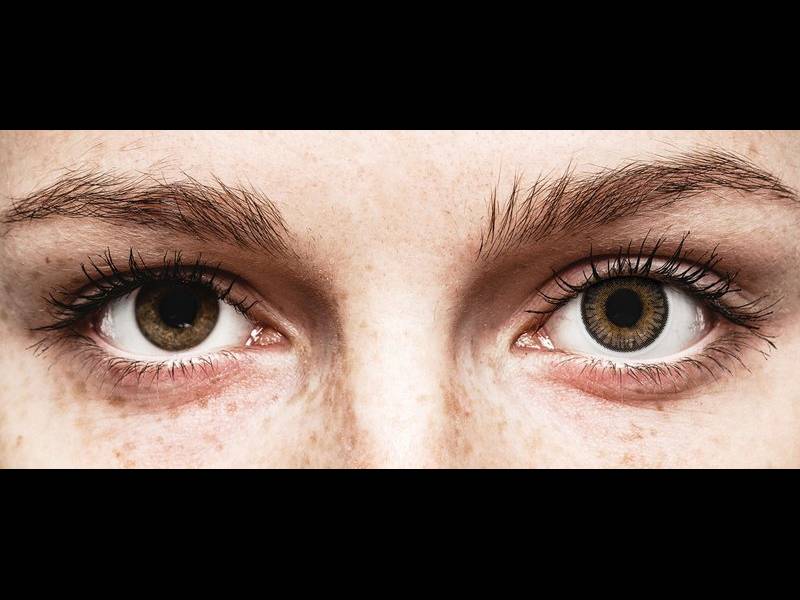 Cosmetic coloured lenses without power
Non-dioptric coloured lenses are contacts that won't correct your vision. They are used solely for cosmetic purposes. For anyone who wishes to buy cosmetic lenses like these, it's advisable for your eyes to be measured for a "plano" prescription, meaning one with zero vision correction. A professional measurement beforehand will also tell you which lenses should comfortably fit you, and which lenses won't.
ColourVue 3 Tones - Grey - plano
These Grey contact lenses are aimed at creating a beautiful natural look by covering your eye with a gorgeously blended grey colour. Enjoy these stunning lenses if you want to change your existing eye colour while not creating an unnatural effect. These lenses work for everyday wear, as well as for a subtle touch to any costume.
About ColourVue 3 Tones Coloured Contact Lenses
ColorVUE - 3 Tones contact lenses are coloured, hydrogel contacts produced by MaxVue Vision. They are designed to cover up your natural eye colour with a subtle yet perfectly bended pattern of colours, and accentuate and visually enlarge your iris. The package contains two lenses, which are suitable for either occasional or daily wear. These 3 Tones lenses are intended for cosmetic use as an accessory and have no dioptric power.
Caring for ColourVUE 3 Tones Lenses
After first use, these lenses will be usable for up to 90 days, after which they need to be disposed of. However, in order to guarantee comfortable wear, it's important to properly and consistently care for these lenses during this extended period of use. Clean and store the lenses using a high-quality multi-purpose contact lens solution. (Don't use peroxide!) Don' leave the lenses in the same solution for longer than 5 days. Every 5 days, repeat the regular cleaning process and store the lenses in fresh solution. And don't forget to replace the lens case, in which you're keeping these lenses, every three months. If these lenses are not properly cared for, there is no guarantee they will remain comfortable.
Properties - Grey 3 Tones contact lenses - ColourVue (2 coloured lenses)
| | |
| --- | --- |
| Colour: | Grey |
| Manufacturer: | Maxvue Vision |
| BC: | 8.60 |
| DIA: | 14.00 |
| Pack size: | 2 lenses |
| Power range: | 0 |
| Expiration: | 12 months and more |
| Oxygen permeability: | 22 Dk/t |
| Water content: | 42% |
| Replacement schedule: | 90 Days |
| Product name: | ColourVUE 3 Tones |
| Lenses Material: | Hydrogel Terpolymer |
| Extended or overnight wear: | No |
| UV filter: | No |
| Medical Device: | Yes |
Reviews
210

of our customers recommend this product
reviews are not verified