Fresh Green contact lenses - power - TopVue Color (10 daily coloured lenses)
Free gift worth up to £13.99 for orders over £90.00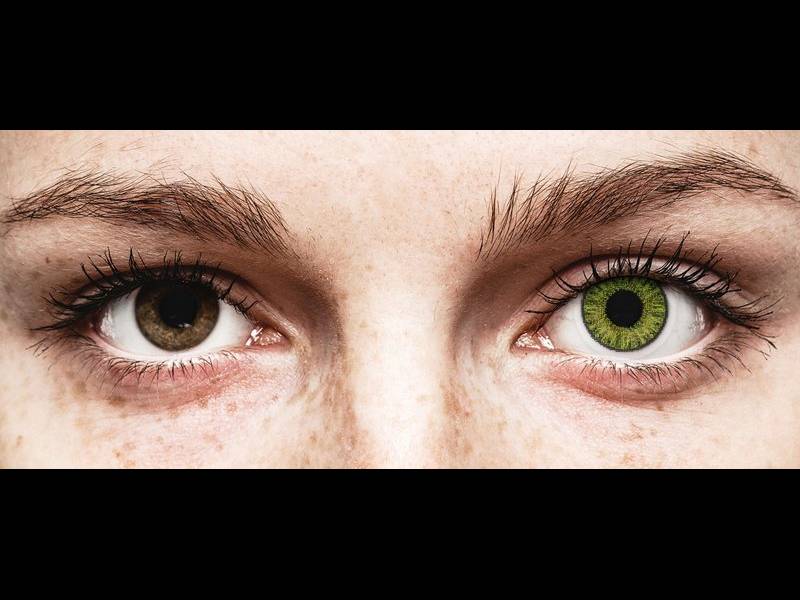 Cosmetic coloured lenses with power
Dioptric coloured lenses are coloured lenses that have a power and are intended to correct your vision. Corrective lenses are typically prescribed by an ophthalmologist or an optometrist. The prescription consists of all the specifications necessary to make the lens. Prescriptions typically include the power specifications of each lens (for each eye). So even when ordering dioptric coloured lenses, you will need to know your prescribed parameters.
TopVue Color Daily Lenses
TopVue Color Daily coloured contact lenses are daily disposable lenses designed to be discarded after one day's wear. Daily lenses are the simplest and healthiest option for contact lens wear, as they are discarded before bacteria and deposits form on the lenses. TopVue Color are made from an advanced hydrogel material with a water content of 43%, so they adapt easily to the eye and remain comfortable throughout the day. These lenses are also equipped with embedded UV filters to protect against harmful UV radiation. TopVue Color lenses are not intended for extended or continuous wear and must be removed before sleeping.
These lenses aren't just for cosmetic use, but also have a vision correction and dioptric power.
Daily lenses are ideal for those interested in occasional wear because they don't require cleaning, solutions, or other maintenance. It's easy to try a new colour for your next special event or night out on the town.
Technology and quality
During the production process, the lenses are tested and checked four times according to the strictest quality control protocol. TopVue Color are produced using the patented Radial Edge technology, which gives the lenses uniformly thin edges for maximum comfort. These thin edges help reduce friction when blinking.
The lenses' three-tone technology means the color is applied in several layers and shades during the production process in order to achieve a natural appearance. These tones include a dark ring that makes the eyes look bigger and the colour bolder.
The resulting effect
Just as no two eyes are identical, the effects of coloured contacts will also vary from person to person. The effects of TopVue Color lenses will be influenced by the natural colour of your eyes, the colour of clothing and accessories, and overall lighting conditions. Do keep in mind that, in general, lighter eye shades are easier to change with coloured contacts than darker natural eye shades.
This packages contains 10 coloured lenses and is ideal for testing a new look or for special occasions. Like all TopVue products, TopVue Color lenses are subject to our Money-back guarantee.
Properties - Fresh Green contact lenses - power - TopVue Color (10 daily coloured lenses)
| | |
| --- | --- |
| Colour: | Green |
| Manufacturer: | TopVue |
| BC: | 8.60 |
| DIA: | 14.20 |
| Pack size: | 10 lenses |
| Replacement schedule: | 1 Day |
| Oxygen permeability: | 19 Dk/t |
| Expiration: | 24 months and more |
| Water content: | 43% |
| Power range: | from -10.00 to +6.00 |
| Extended or overnight wear: | No |
| Lenses Material: | Polyhema |
| Product name: | TopVue Color |
| UV filter: | Yes |
| Medical Device: | Yes |
Reviews
44

of our customers recommend this product
reviews are not verified