1 / 1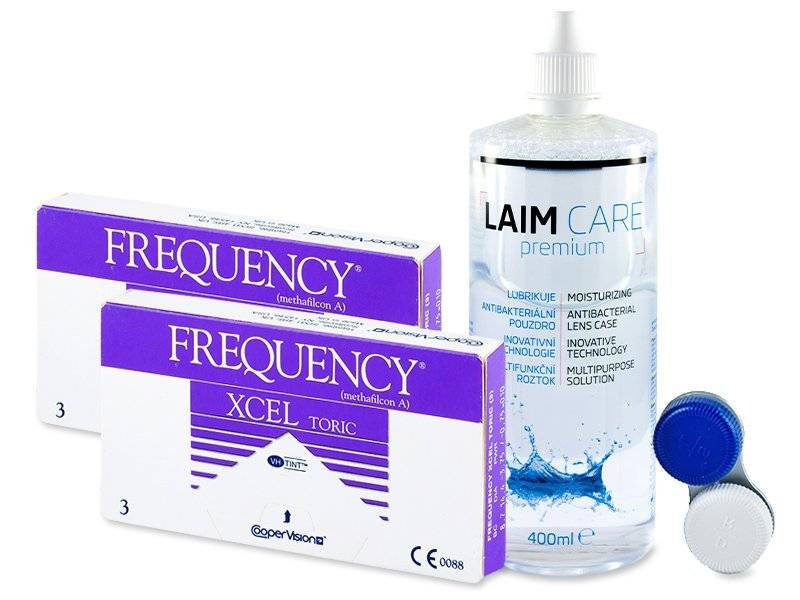 Package deal
FREQUENCY XCEL TORIC (2x3 lenses) + Laim-Care Solution 400ml
More than 100 pcs
£34.27
FREQUENCY XCEL TORIC (2x3 lenses) + Laim-Care Solution 400ml
Free gift worth up to £6.79 for orders over £75.00
Frequency XCEL Toric Contact Lenses
Frequency XCEL Toric are monthly contact lenses produced by CooperVision that are intended for the correction of astigmatism. Their thin edges, together with the advanced UltraSYNC technology, ensure outstanding comfort. Frequency XCEL Toric are not designed to be worn while sleeping.
Read more about Frequency XCEL Toric
Laim-Care contact lens solution
Laim-Care is an isotonic, multipurpose cleaning solution for disinfecting and storing all types of soft contact lenses. This innovative solution contains hyaluronic acid, also known as sodium hyaluronate, which is one of the human body's natural lubricating substances. It effectively helps moisturise, clean, and disinfect contacts to ensure all-day comfort and clarity. This package contains one 400 ml bottle of solution and one antibacterial lens case.
Read more about Laim-Care solution
Properties
| | |
| --- | --- |
| Manufacturer: | CooperVision, Schalcon |
| Solution type: | Universal |
| Volume: | 400 ml |
| BC: | 8.70 |
| DIA: | 14.40 |
| Pack size: | 3 lenses |
| Expiration: | 12 months and more, 16 months and more |
| Oxygen permeability: | 18 Dk/t |
| Usability after opening: | 3 months |
| Replacement schedule: | 30 Days |
| Water content: | 55% |
| Product name: | FREQUENCY XCEL TORIC |
| Cylinder extra power: | from -0.75 to -2.25 |
| Power range: | from -8.00 to +6.00 |
| Lenses Material: | Methafilcon A |
| Extended or overnight wear: | No |
| UV filter: | No |
| Contains Sodium hyaluronate: | Yes |
Reviews
This product doesn't have many reviews yet
Do you have any questions