Focus Dailies All Day Comfort (30 lenses)
Systane Ultra Preservative-Free eye drops 10 ml
Fast acting relief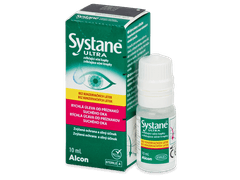 Recommended for dry, tired and irritated eyes
Easy dosing with PureFlow Technology
Can be used with contact lenses
Advanced preservative-free formula
Reviews
63

of our customers recommend this product
Comments (2)
Do you have any questions
Is it possible to order focus daily contact lense with a different DIA? I've had 14.0 with other lenses, and not sure if it will make a big difference in comfort/vision quality?
Answer
Hi Calvin, Focus Dailies diameter is 13.8 mm, and this is a standard measurement from the manufacturer. You should not notice any difference if your prescription is within 0.2mm of these. If you have any questions, it's always a good idea to check with your optician.
I'm interested in focus dailies, but I have bc 8.60 and dia 14.2. Will these be suitable for me?
Answer
Dear Stuart, the diameter of these lenses is a standard 13.8mm. If your prescription varies by more than 0.20mm, it's best to check with your optician to find a more suitable option.