Electric Blue Glow contact lenses - ColourVue Crazy (2 coloured lenses)
Free gift worth up to £6.50 for orders over £75.00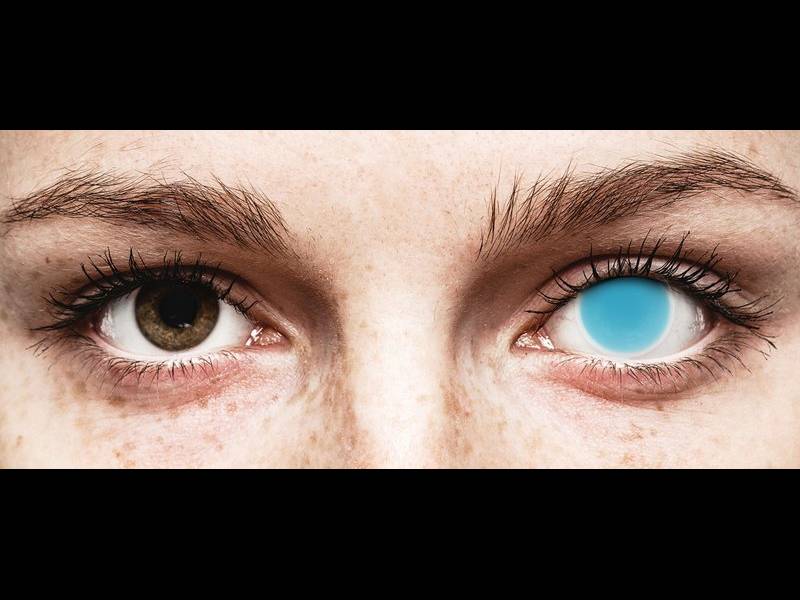 These coloured lenses are completely transparent; therefore, it might look like you are wearing nothing at first glance. Go under a UV light and surprise everyone around you! Once you're on the dancefloor, these lenses will start glowing for a radiating effect!
Cosmetic coloured lenses without power
Non-dioptric coloured lenses are contacts that won't correct your vision. They are used solely for cosmetic purposes. For anyone who wishes to buy cosmetic lenses like these, it's advisable for your eyes to be measured for a "plano" prescription, meaning one with zero vision correction. A professional measurement beforehand will also tell you which lenses should comfortably fit you, and which lenses won't.
About GLOW lenses
These colourful and playful contact lenses are manufactured by MaxVue Vision and are a staple for all those searching for something fun to wear for Halloween, cosplay, at a party, etc. ColourVUE Glow Crazy lenses are annual contact lenses designed to cover your natural eye colour and produce a unique glowing effect under UV light. Glow lenses are purely for cosmetic purposes.
About ColourVUE Crazy Lens
Crazy lenses are coloured contact lenses. These coloured lenses are specifically designed to cover your natural eye colour with unique, popular, and fantastical patterns. These lenses are ideal for costumes, cosplay, and events like Halloween. They are produced with a variety of replacement schedules but, with proper care, usually last quite long. Crazy lenses are definitely the best choice to put the finishing touches on an amazing look.
ColourVUE Crazy GLOW - Electric Blue - plano
These Electric Blue Glow lenses are unique in every way. At first glance, it'll look like you're wearing nothing at all. The lenses are completely transparant. However, the fun starts once you introduce UV light. When exposed to UV light, these lenses will completely start glowing in a blue hue. Surprise everyone with your unique eyes thanks to these lenses! You could also just use them for a rave.
About ColourVue Crazy GLOW Coloured Contact Lenses
These colourful and playful contact lenses are manufactured by MaxVue Vision and are a staple for all those searching for something fun to wear for Halloween, cosplay, at a party, etc. ColourVUE Glow are annual contact lenses that produce a unique glowing effect under UV light. The package contains two lenses. Crazy GLOW lenses are intended for cosmetic use as an accessory and have no dioptric power.
Caring for ColourVUE Crazy GLOW Lenses
After first use, these lenses will be usable for up to 365 days, after which they need to be disposed of. However, in order to guarantee comfortable wear, it's important to properly and consistently care for these lenses during this extended period of use. Clean and store the lenses using a high-quality multi-purpose contact lens solution. (Don't use peroxide!) Don' leave the lenses in the same solution for longer than 5 days. Every 5 days, repeat the regular cleaning process and store the lenses in fresh solution. And don't forget to replace the lens case, in which you're keeping these lenses, every three months. If these lenses are not properly cared for, there is no guarantee they will remain comfortable.
Properties
| | |
| --- | --- |
| Colour: | Blue, Transparent, Special |
| Manufacturer: | Maxvue Vision |
| BC: | 8.60 |
| DIA: | 14.00 |
| Pack size: | 2 lenses |
| Power range: | 0 |
| Expiration: | 12 months and more |
| Oxygen permeability: | 22 Dk/t |
| Replacement schedule: | 365 Days |
| Water content: | 45% |
| Product name: | ColourVUE Crazy Glow, ColourVUE Crazy Lens |
| Lenses Material: | Hydrogel Terpolymer |
| Extended or overnight wear: | No |
| UV filter: | No |
Gelone Eye Drops 10 ml
Immediate and long-lasting relief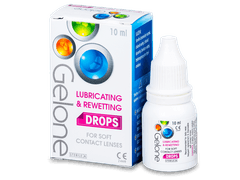 Soothes dry and sensitive eyes
Creates a film that protects the eyes
Can be used on all types of contact lenses
Reviews
43

of our customers recommend this product
Do you have any questions
Hi am ade. Am just wondering what mad/colored lenses can you keep in for the longest time? As you got a fantastic selection BTW Cheers folks
Answer
Hi, please note we do have different lenses that can be worn for different amounts of time. This is always shown in the description for each type of lens. If you are note sure what might be best for you, feel free to contact our customer service at info@alensa.co.uk
Hi. Could the contact lenses send to oversea? l like send to Australia. How much the post fee? Thanks. Moreover, I like no color lenses. Is the Electric Blue Glow contact lenses no color?
Answer
Hi, Ash, Unfortunately, we only ship within the EU at the moment, and, thus, cannot ship overseas.
Thanks, Alensa
Hi - Can I get the electric Blue Glow contact lenses (ColourVue Crazy) in prescription??
Answer
Hi, Andrea, It doesn't look like we yet have these lenses in powered format yet.
Thanks, Alensa