Delivery costs and times
Notes:
The price of postage is including VAT
Each price is final, no matter what the payment method, and includes packing and shipping
Shipping costs are NOT dependent on overall size and weight of the order
Free delivery promotions apply to standard delivery options (Royal Mail)
Shipments will only be dispatched when payment is complete
Additional £ 0,5 surcharge for the PayPal payment method
Shipping outside the UK
Alensa.co.uk is not able to deliver outside the UK. Please refer to www.alensa.eu to order from another country.
Additional service: parcel insurance
For an additional fee, you have the option to insure your parcel. This insurance covers packages in the event that they are lost or damaged in transit. This means that as soon as we confirm that your parcel is lost or damaged in any way, we will immediately dispatch a new parcel containing the same goods, without the need to first initiate the lengthy claim protocol described below. If your order contains special custom-made goods such as custom eyeglasses or unique lens combinations, keep in mind that these will take additional time to prepare.
Adding products
Please note that considering the large volume of orders processed by our warehouse, we cannot guarantee the possibility to merge or change finalised orders. If you wish to merge more than one order, or add to or amend a completed order, please contact our customer service immediately, and we will assess the possibility on a case-by-case basis. This is only possible during customer service hours of operation (8am-4pm). Your order is considered complete at the moment of payment. If you wish to add something, you will need to make a new order, and additional, standard delivery charges will apply.
Delivery Times
| | |
| --- | --- |
| Delivery service | Estimated delivery time |
| UPS Express | 1–2 business days from shipment date |
| Royal Mail | 2–4 business days from shipment date |
Notes:
If your order was placed before noon it will be shipped on the day you placed it
If your order was placed after 12 o'clock it will be shipped on the following business day
You will receive a track and trace number/link allowing you to follow the shipment online
Orders are not dispatched on weekends
Estimated delivery times apply from the moment a parcel is shipped and not from the moment an order is made
Delivery times of non-stock goods
Thanks to our extensive stock, we are able to immediately send out 97% of all orders received. However, the dispatching of special contact lenses that are not stocked frequently depends on the delivery conditions of our suppliers and can take up to a couple weeks.
When choosing and ordering your lenses, you will be shown an indication of the expected shipping date on the product page. This may change once you have selected the parameters for your contact lenses.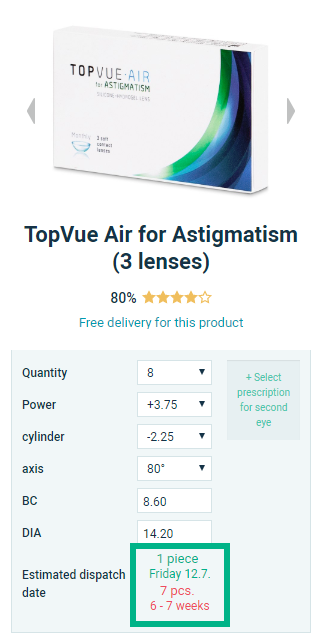 After you have selected your specific parameters, you will be shown a new estimated shipping time for those parameters, as shown above. Please note that the "in stock" info indicates the general availability of a product from our company. It does not necessarily mean that your unique combination will be in stock. Please only refer to the expected shipping date revealed next to the drop-down menus for shipping information pertaining to your specific order. Any expected delay in delivery will be reconfirmed when you go to your shopping basket, and again in the order confirmation e-mail. The customer will be made aware when only part of his order is in stock at the time of order confirmation, and the order will be sent only when all products are available.
Orders containing both in-stock and non-stock goods
After you have selected the correct parameters for each of your desired products and before finalizing and paying for the order, please pay very close attention to each estimated delivery time for each individual product in your shopping basket.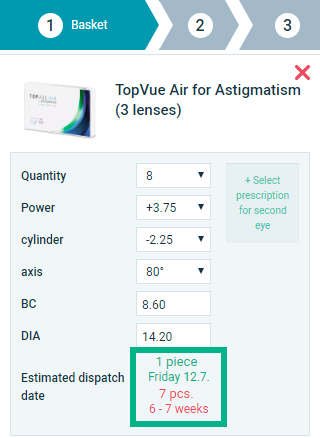 By confirming and completing payment for the order, the customer agrees that the entire order will be shipped only after all products are in stock. The dispatching of stock products before the dispatching of non-stock products will only be allowed under special circumstances. If desired, the customer can pay an extra delivery fee (equal to regular delivery costs) to receive the stock goods before the non-stock goods.
Problems with delivery
DHL Express requires a signature upon delivery. Please ensure someone will be present at your delivery address during business hours Monday – Friday.
We are not responsible for any delay in delivery caused by our logistical partners or situations beyond our control such as weather, holidays, etc. Please bear in mind we are providing an estimated delivery date suggested by our delivery partners. In rare situations, some parcels can arrive outside of the suggested timeframe. To ensure the smoothest possible delivery, please provide your complete address information (street name, house number, postal code and city) and a telephone number so our logistics partners can reach you, if necessary. Once your order has been shipped, you will receive a track and trace number where you can follow your shipment online. Do not hesitate to contact us if you notice any problems in the track and trace. Our customer service representatives will handle your questions promptly and efficiently.
If a parcel cannot be delivered for any reason, it may be held in a local post office of logistics centre for redelivery or collection. If unclaimed, the parcel may be returned to us or destroyed. Therefore, it is the buyer's responsibility to ensure the parcel will be received at the given address and to communicate with the delivery company directly with any inquiries once the parcel is in transit or stored. Destroyed parcels will not be replaced or refunded.
Claim protocol
Should a parcel be determined to be lost, missing, or delivered incorrectly, we will initiate a claim with our delivery partner(s) on your behalf. In order to initiate the claim, two confirmations are necessary: 1.) a signed affidavit from the customer stating that the parcel was not received; 2.) verification from the delivery company that the parcel has been mishandled.
Once the claim is in progress, we will quickly issue you a refund or send a new order, as you prefer. We cannot process refunds or send new parcels while a current parcel is in transit and until it is officially declared lost by the courier. Please be aware that each delivery company follows a different protocol, and may require a period up to 21 days to investigate and verify lost or misdirected parcels. However, if you have purchased our parcel insurance , we will be able to immediately dispatch a new parcel and you will not have to wait until your claim has been processed.
Damaged Packaging
Contact lenses and accessories are delivered in a sturdy container of sufficient size, thus you can be sure you receive your shipment undamaged and in good condition. However, if the box is damaged upon delivery, DO NOT ACCEPT the package from the logistical partner and specify the reason in the delivery protocol, such as "substantial damage to the box," "liquid leak" etc. Please contact us immediately so we can quickly respond to the problem and provide you with a new delivery.