Dailies TOTAL1 (30 lenses)
Systane Ultra Preservative-Free eye drops 10 ml
Fast acting relief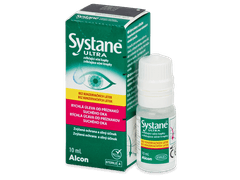 Recommended for dry, tired and irritated eyes
Easy dosing with PureFlow Technology
Can be used with contact lenses
Advanced preservative-free formula
Reviews
614

of our customers recommend this product
Comments (10)
Do you have any questions
How quick would I receive these if ordered today?
Answer
Hi,
Please contact our customer service at info@alensa.co.uk, so we can assist you further. Thank you!
How much is shipping to Malta please?
is dailies total 1 extended wear lens?
Answer
Hello Carmen, Dailies Total 1 are daily disposable lenses, intended to be discarded each day. If you are interested in extended wear lenses, always consult with your optician first, and then you can shop our selection of this type of lenses here: http://www.alensa.co.uk/…-lenses.html
Hi, could somebody please clarify that these are made by Ciba Vision? They have a different manufacturer on the box. Also, how do I get a couple to trial before commiting to purchase? My Optician friend recommended these particular lenses, but said they were Ciba Vision. Thanks.
Answer
Hi Imogen, Alcon and Ciba Vision have merged, and are now using the company name Alcon exclusively. We are not able to provide trial lenses; only your optician is authorised to do this following an eye exam. We hope this information is helpful.
Referring to Stella Martin's comment about base curve difference, would there be a tolerance for diameter also? Diameter on my current lenses is 14.2.
Answer
Hi there, Generally a difference of 0.20 mm in BC and Diameter or less is acceptable, and you will not notice any difference in comfort or quality of vision. Dailies Total 1 DIA is just 0.10mm different, so you should tolerate the lenses with no problem.
I'm wondering about the Dailies total 1 base curve. I can't seem to change it, but I have base curve of 8.6. Can I order these, or will they be unsuitable for me?
Answer
Hi Stella, Dailies Total 1 contact lenses with a base curve of 8.5 are standard, and it should be no problem for you if your prescription indicates a difference of 0.1mm.
Best price around for these lenses. Thanks a ton.
Brilliant service. Ordered before 12 on Thursday and the lenses were delivered before 12 the next day. Much quicker than expected. Fantastic price too.
Great service, and the lenses arrived quicker than I was expecting.
As a first-time lens wearer, I'm very pleased with these. Thank you.