Dailies AquaComfort Plus Toric (30 lenses)
We would like to inform you that certain Dailies AquaComfort Plus Toric prescriptions are currently not available due to manufacturing limitations. This issue unfortunately affects packs of 5, 30 and 90 lenses. We're sorry for any inconvenience and thank you for understanding. Please enter your prescription to check availability.
Systane Ultra Preservative-Free eye drops 10 ml
Fast acting relief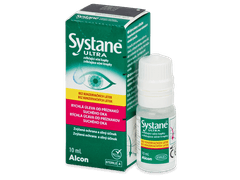 Recommended for dry, tired and irritated eyes
Easy dosing with PureFlow Technology
Can be used with contact lenses
Advanced preservative-free formula
Reviews
305

of our customers recommend this product
Comments (6)
Do you have any questions
Hi I was just wondering which eye is eye 1 (I.e. left or right) and which eye is eye 2 as it is a little confusing since both my eyes have different prescriptions and I don't want to place the wrong prescription on the wrong eye. Many thanks
Answer
Hi,
Please contact our customer service at info@alensa.co.uk, so we can assist you further. Thank you!
An excellent lens! They're still comfortable after wearing them for eighteen hours a day. They are really easy to put in and remove and i can't think how they could be any better.
The best contact lenses! Barely notice you have emm on due to the comfortable nature and also no itchiness at all
It's always handy to have these lenses as I wear glasses mostly. Bought these online as they are a lot of cheaper and it's always good to have a spare box.
Very light and comfy lenses.
These lenses really relaxed my dry eyes. Very impressed.