Dailies AquaComfort Plus Multifocal (90 lenses)
Systane Hydration Eye Drops 10 ml
Fast Acting Relief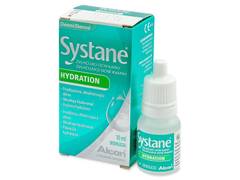 Rehydrates your eyes for relief that lasts.
Advanced dual ingredient formula with Hyaluronate.
Can be used with contact lenses.
Reviews
This product doesn't have many reviews yet
Do you have any questions
Just bought 90 dailles aqua comfort used 4 lenses and every one has fell to bits when removing leaving bits in the eye would to change to accuvue moist multifocal if possible bc8.5 dia14.2 power0.75 strength 2.50 alanheslop7@gmail.com cheers Alan
Answer
Hi Alan. Please contact our customer service department at info@alensa.co.uk. Thank, Alensa
Hi could I please have a sample pair of multi focal to try before I purchase ?as never worn multifocal Regards Eve
Answer
Hi, Eve, We are not licensed opticians, so, unfortunately, we are unauthorized to offer trial lenses or samples.
Thanks, Alensa
Convenient lenses when I don't want to wear my glasses. Feel really comfortable on my eye.