Dailies AquaComfort Plus Multifocal (30 lenses)
Systane Hydration Eye Drops 10 ml
Fast Acting Relief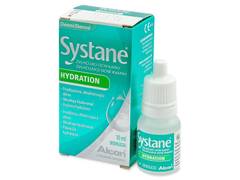 Rehydrates your eyes for relief that lasts.
Advanced dual ingredient formula with Hyaluronate.
Can be used with contact lenses.
Reviews
This product doesn't have many reviews yet
Do you have any questions
I have been using Alcon Dailies Total for years. For the last 15 years I have an increasing problem with dry eyes. I have tried several alternatives to the Dailies Total as they cause my eyes to be quite red after a few hours. Every trial was ineffective as my the lenses start to stick to my eyes, fog over and turn me almost blind within a few hours. Aged 57 I have also developed presbyopia and find the use of reading glasses annoying. My optician recommended to use multifocal lenses from another company. I have tried some from another company and had very good vision with them but had the usual problems with severe "fogging up" so cannot use those. Unfortunately I was told my my Vision Express optician that they don't sell Acon products any more and therefore cannot organize any multifocal Alcon lenses for testing. My questions now: 1. Would the Dailies AquaComfort Plus Multifocal be better for my dry eyes then the Dailies Total I used up to now? 2. Can I get a few of them for testing? 3. As I have never mulitfocal lenses before I don't know how to fill my prescription into your order form. Can I email you a scan of my prescription to help me with this? Looking forward to hear from you. Kind regards Uta Ashley
Answer
Hi, Uta, Please contact our customer service at alensa.co.uk.
Thanks, Alensa
I use 1 day Acuvue moist both eyes are +1.25 mid max add + 1.75 The bc 8.4 Dia 14.3 Are the dailies aquacomfort compatible
Answer
Hi, Sally, The closest approximate counterpart would be max add +2.00, with a BC of 8.7 and a DIA of 14.0.
We encourage you to check with your local optician.
Thanks, Alensa
Been using multi-focal lenses for years and these are some of the best.
My contact lenses are -1.25 left eye and -1.50 right eye. How I know which ones to order?
Answer
Hello,
Thank you for your recent comment. For advice on selecting lenses, please follow our lens parameters guide which you can find here: https://www.alensa.co.uk/…n-guide.html. If you need any further assistance in selecting lenses, please contact us on: 0203 514 5586 and we will be happy to help.
Many thanks, Alensa
Hi, I am thinking of ordering these lenses however my prescription is BC 8.6 DIA 14.1. Would these not be suitable. Thank you. Tracey J.
Answer
Hi Tracy, thanks for your question. Dailies Aquacomfort Plus Multifocal BC and DIA are 8.7 mm and 14.0 mm, respectively. For most people, a difference of 0.2 mm or less will not cause any noticeable difference in comfort or vision quality. Double check with your optician if you have any concerns.
Hello- are the Dailies Aquacomfort plus hydrogel lenses? I've heard that's good. What is Nelfilcon?
Answer
Hi Sam, yes, Dailies Aquacomfort plus are made from bio-compatible hydrogel material. They are designed to retain moisture and promote oxygen permeability for increased comfort and clarity.
What are the Dailies aquacomfort plus multifocal add powers? Mine falls between low and medium, so how do I know which to choose?
Answer
Hi Helen, with Dailies Aquacomfort Plus Multifocal lenses, it is recommended that you use the lower ADD power whenever possible, if your prescription falls between 2 levels.
As a first-time lens user, I find these very comfortable, even when working on the computer for an extended time.
Great service, and the lenses are wonderful. Much better than monthly lenses.