Dailies AquaComfort Plus (90 lenses)
Systane Ultra Preservative-Free eye drops 10 ml
Fast acting relief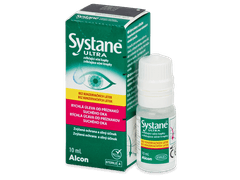 Recommended for dry, tired and irritated eyes
Easy dosing with PureFlow Technology
Can be used with contact lenses
Advanced preservative-free formula
Reviews
44

of our customers recommend this product
Comments (12)
Do you have any questions
Is there a daily contact lens of a high degree?And what is the brand?
Answer
Hi Aymen. Please contact our customer service department at info@alensa.co.uk. Thanks, Alensa
Hello, my delivery was said to be free (orders over £30) but now I see you add delivery cost. Why is that as my item cost £30.15 its that not over £30 ? I must be blind then. This is maybe why I need contact lenses. hahahah :\ Thanks
Answer
Hi, Sybille, Please contact our customer service department at info@alensa.co.uk.
Alensa
On the image of the Dailies AquaComfort Plus (90 lenses), the expiry date is May 2019. Is it just the photo? If I buy them today, what will be the expiry date pls? Thank you
Answer
Hi, Dorianne, Yes, it is simply our exhibition photo. The expiration date for all of our lenses is a standard 2-3 years.
Thanks, Alensa
Dailies AquaComfort Plus (180 lenses) 9,718 product reviews Alcon · Corrective · Daily Disposable Dailies AquaComfort Plus Daily Disposable Contact Lenses Dailies AquaComfort Plus are daily disposable contact lenses produced by Alcon. Compared to their predecessor, Focus ...more » Other options £64.19 Free delivery Alensa.co.uk 95% positive (394) Why are your lenses on the web at this price but when I come to your site to order the price is £73.58
Answer
Hi, Steve, Perusing via shopping facilitators significantly reduces our prices. Therefore, the price via a quick search on comparison websites will most likely be cheaper compared to going directly to our site. However, we respect that price as well.
Thanks, Alensa
The DA on these is different to my usual These are 14 but my usual ones are 13.8 Will that make a difference
Answer
Hi, Denise, A difference of 0.2 is not terribly significant; you will probably still find them comfortable. However, we always heavily encourage you to consult with your optometrist before making a purchase.
Thanks, Alensa
Lenses that I can wear all day. Really comfortable and convenient.
I've been wearing lenses for many years and these are probably the most comfortable.
Pretty good daily lenses, no complaints so far.
Used these for several months now. Lenses that stay comfortable for the whole day.
Never been let down when using Dailies. Good price and delivery too.
Convenient daily lenses. Used monthly lenses for a while but these are a really good alternative since I don't have to worry about them. Just take them out at the end of the day.
Really comfortable lenses. Fast delivery after ordering online.