Crullé 17242 C3
Glasses dimensions
(in millimeters)
Free Delivery for orders over £49
Free Gifts for orders over £75
Guarantee of authenticity
Try-on virtually
About Crullé
Whether you're looking for an everyday look or need something to fit a stronger fashion sense, Crullé is your brand! Available in many different shapes and colours, there's a pair of Crullé glasses perfect for every preference. These stylish and durable glasses come with a low price tag, so why choose only one?
About these glasses
The shape is square, which works perfectly for those with diamond, oval, and round-shaped faces. The frame colour is mostly black, which is an easy colour to wear and remains an excellent and reliable choice for an everyday yet elegant style. These glasses are equipped with flexible temple hinges, which is a great component for those who often take off their glasses! The material is mainly made of lightweight and durable plastic. Would you like to see if these glasses are the perfect fit for you? Get a closer look with our virtual try-on tool! These frames have an elegant matte finish.
Original products
We sell only original brands and products. When you order glasses from Alensa, they are already in stock and will be delivered to your doorstep in the shortest possble time. We strive for the most complete customer satisfaction. In case our products have not met your expectations, please contact our customer service team who will work to attain the best resolution.
Back to product detail
1. Type of lenses
More information
Glasses for up close
Glasses for reading. Single-vision lenses.
Glasses for far away
Glasses for distance vision, e.g. for driving or casual wear. Single-vision lenses.
Progressive / multifocal glasses
All-in-one glasses for vision correction across all distances.
Prescription-free glasses with a blue-light filter
Powerless eyeglass lenses inserted into your selected frames and equipped with a filter that blocks blue-light from computer and mobile phone screens.
Add just the frames to your basket
2. Your prescribed parameters
More information
Standard lens surface treatments included for all glasses
UV filter
Extra hardening
Self-cleaning coating
Hydrophobic coating
Anti-reflective coating
3. Lens thickness
More information
Normal
Refraction index: 1.5
Recommended for dioptres up to +/- 2.00
+ £12.90 Price per pair
Thin
Refraction index: 1.6
Recommended for dioptres from +/- 2.25 to +/- 4.25
+ £25.90 Price per pair
Super thin
Refraction index: 1.67
Recommended for dioptres from +/- 4.50 to +/- 6.00
+ £49.90 Price per pair
Ultra thin
Refraction index: 1.74
Recommended for dioptres from +/- 4.50 to +6.00 /- 12.00
+ £77.90 Price per pair
4. Special features for your eyeglass lenses
More information
Blue light blocking filter
These lenses filter and block blue light from digital devices such as phones, tablets and computer screens. This will reduce eye fatigue, increase productivity and improve sleep habits.
+ £29.90 Price per pair
Self-tinting lenses
Photochromic or self-tinting lenses shade according to changing light conditions. They are clear indoors and darken when exposed to UV rays. This protects the eyes when needed. Available in brown and grey.
+ £65.90 Price per pair
Sunglasses lenses
This will turn your prescription lenses into proper sunglasses in order to protect your eyes from UV rays. Tint options are available in green, brown and grey. An 85% tint provides an effect equivalent to normal sunglasses.
+ £29.90 Price per pair
Without added features
All lenses always come with extra hardening, a UV filter, and anti-reflective, self-cleaning, and hydrophobic coatings that prevent fog and stains.
+ £0 Price per pair
Back to product detail
Choose your lenses
Choose the ideal lens for your glasses. The price is always for a pair.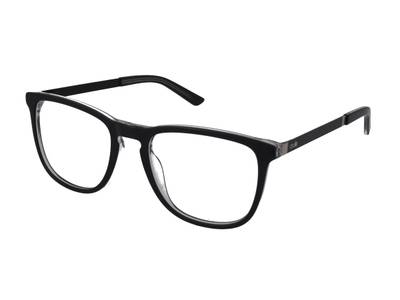 Crullé 17242 C3
Special features for your eyeglass lenses
+ £0.00
Details