CRAZY LENS - Solid Red - plano (2 daily coloured lenses)
*Your selected parameters are currently not in stock. We cannot guarantee a constant availability of all parameters. Therefore, we'd like to offer you alternative products with identical parameters, immediately available for shipping. However, please keep in mind that these suggestions are different products, made from possibly different materials, and may not offer the same level of comfort.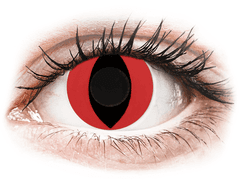 CRAZY LENS - Cat Eye Red - plano (2 daily coloured lenses)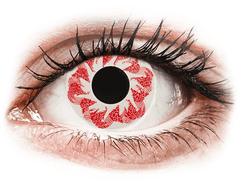 CRAZY LENS - Atom Bomb - plano (2 daily coloured lenses)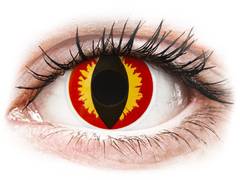 Red and Yellow Dragon Eyes contact lenses - ColourVue Crazy (2 daily coloured lenses)
Free gift worth up to £6.50 for orders over £75.00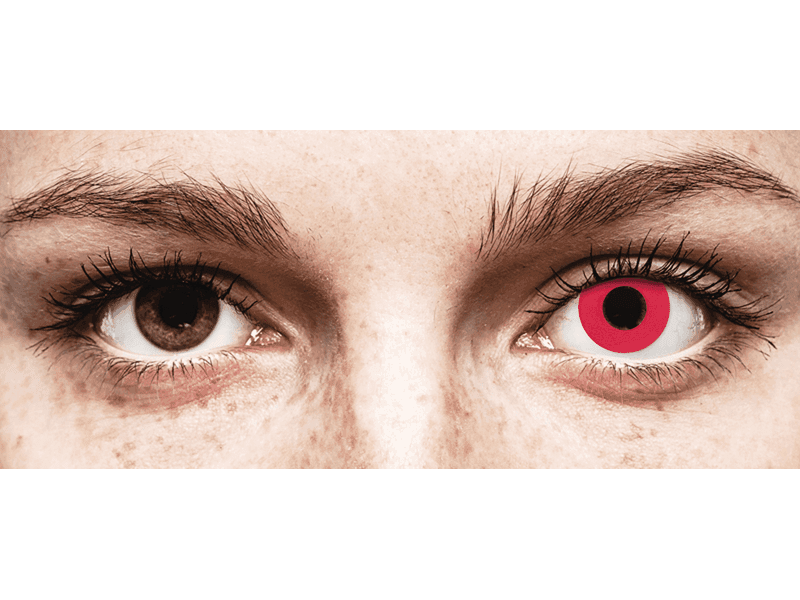 Cosmetic coloured lenses without power
Non-dioptric coloured lenses are contacts that won't correct your vision. They are used solely for cosmetic purposes. For anyone who wishes to buy cosmetic lenses like these, it's advisable for your eyes to be measured for a "plano" prescription, meaning one with zero vision correction. A professional measurement beforehand will also tell you which lenses should comfortably fit you, and which lenses won't.
About Gelflex
The Australian company Gelflex has been producing contact lenses for over 45 years with a focus on contact lens quality, innovative design, patient health, comfort and quality of vision. They now have offices all over the world. All of their lenses are designed under strict quality control guidelines.
About CRAZY LENS
Produced by Gelflex, Crazy lens is a brand of coloured disposable contact lenses that offers lenses in all sorts of extravagant and playful colours perfect for costume parties, Halloween, cosplay, and more.
Properties
| | |
| --- | --- |
| Colour: | Red, Special |
| Manufacturer: | Gelflex |
| BC: | 8.60 |
| DIA: | 14.20 |
| Pack size: | 2 lenses |
| Power range: | 0 |
| Replacement schedule: | 1 Day |
| Expiration: | 12 months and more |
| Oxygen permeability: | 13,36 Dk/t |
| Water content: | 43% |
| Product name: | CRAZY LENS |
| Extended or overnight wear: | No |
| Lenses Material: | Polyhema |
| UV filter: | Yes |
Gelone Eye Drops 10 ml
Immediate and long-lasting relief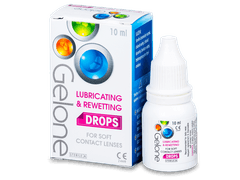 Soothes dry and sensitive eyes
Creates a film that protects the eyes
Can be used on all types of contact lenses
Reviews
200

of our customers recommend this product
Do you have any questions