Black BlackOut contact lenses - power - ColourVue Crazy (2 coloured lenses)
Delivery
2–3 Business Days
£2.90
1–2 Business Days
£5.90
1–2 Business Days
£3.90 – £4.90
Free Delivery
for orders over £49
Free Gifts
for orders over £75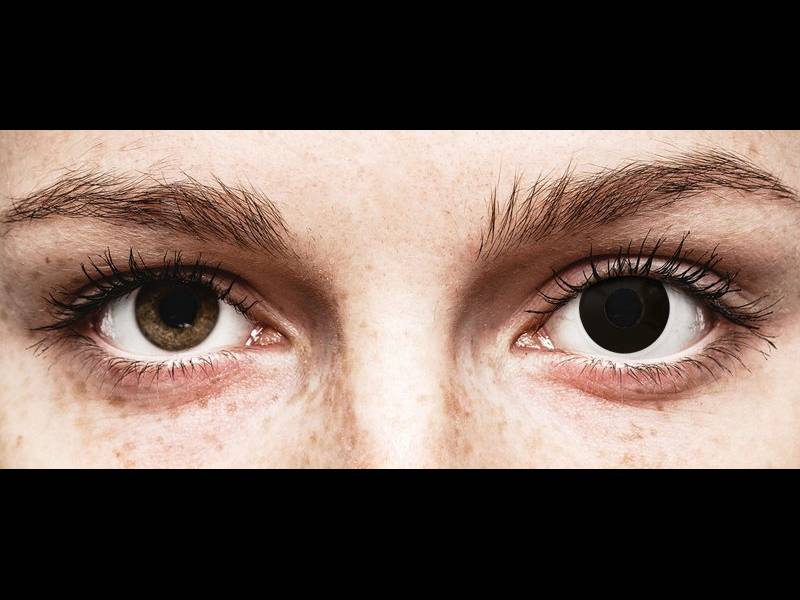 ColourVUE Crazy Lens – BlackOut – with power
Do you want a completely black iris? Then these BlackOut Crazy Lenses are just the thing for you! BlackOut lenses will make you iris colour completely disappear in order to achieve a scary or demonic look.The tranparent space in the middle of the lens still allows your pupil to see clearly but the result will look like an all-black eye. Perfect for any freaky costume or cosplay.
About ColourVue Crazy Coloured Contact Lenses
These colourful and playful contact lenses are manufactured by MaxVue Vision and are a staple for all those searching for something fun to wear for Halloween, cosplay, at a party, etc. ColourVUE Crazy Lens are quarterly (3 months) coloured lenses with a dioptric correction capable of covering your natural eye colour with a unique pattern or colour .
Caring for ColourVUE Crazy Lenses
After first use, these lenses will be usable for up to 90 days, after which they need to be disposed of. Contrary to cosmetic lenses without power, these lenses unfortunately don't last as long. However, in order to guarantee comfortable wear, it's important to properly and consistently care for these lenses during this extended period of use. Clean and store the lenses using a high-quality multi-purpose contact lens solution. (Don't use peroxide!) Don' leave the lenses in the same solution for longer than 5 days. Every 5 days, repeat the regular cleaning process and store the lenses in fresh solution. And don't forget to replace the lens case, in which you're keeping these lenses, every three months. If these lenses are not properly cared for, there is no guarantee they will remain comfortable.
Properties
| | |
| --- | --- |
| Color: | Black, Special |
| Manufacturer: | Maxvue Vision |
| BC: | 8.60 |
| DIA: | 14.00 |
| Pack size: | 2 lenses |
| Expiration: | 12 months and more |
| Oxygen permeability: | 22 Dk/t |
| Water content: | 45% |
| Replacement schedule: | 90 Days |
| Product name: | ColourVUE Crazy Lens |
| Power range: | from -6.00 to -1.00 |
| Lenses Material: | Hydrogel Terpolymer |
| Extended or overnight wear: | No |
| UV filter: | No |
Do you have any questions
contact colored lense
hi, I don't need glasses, I just want the black coloured lense, I don't know how to order ref the power level, also do they come with a solution and would I need to order more, again sorry how long can I wear them. many thanks, Asher