Biotrue ONEday for Presbyopia (30 lenses)
Gelone Eye Drops 10 ml
Immediate and long-lasting relief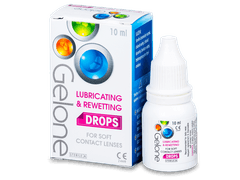 Soothes dry and sensitive eyes
Creates a film that protects the eyes
Can be used on all types of contact lenses
Reviews
144

of our customers recommend this product
Comments (10)
Do you have any questions
Hi Can you check what I should order please? My last order ( not from you) states 8.60 14.20-1.00. High
Answer
Hi,
Please contact our customer service at info@alensa.co.uk, so we can assist you further. Thank you!
Hi. I am unsure if I am ordering the correct specification. My last order states: 8.60 14.20-1.00. High
Answer
Hi,
Please contact our customer service at info@alensa.co.uk, so we can assist you further. Thank you!
Hi there do you after care/ yearly contact lense checks?
Answer
Hi Martin. Unfortunately, no. We are an online shop only. Thanks, Alensa
Hi The specs on my current lenses are BC 8.7 and Dia 14.20. The BC on the Bio true is 8.6 Is the 0.1 difference important?
Answer
Hi, Emmanuelle, A difference of 0.1 should not hinder your eyesight. However, as always, we strongly encourage you to consult with your optometrist.
Thanks, Alensa
Delivery takes ages! I would not recommend their service
Hi my lenses at the moment are.bc8.4 dia 14.3 would the biotrue be ok? I suffer from dry eyes so thought these would be good as water content is higher that the acuvue moist.
Answer
Hi, D. Marsh, Yes, higher water content should help reduce the irritation from dry eyes.
Thanks, Alensa
last time I bought them from you they were £17.05 per box, and that was one month ago. Now you're selling them for 22.79. Why the difference? (Bio True one day lenses for presbyopia)
At present I have a +1.25 for my R eye & +2.25 for my L eye how much would these cost for 3 months supply? Regards J Adams
Answer
Thank you for your recent comment. As you have a different prescription for each eye, you would need to buy 3 boxes of each of these for a 3 month supply. To add a different prescription please click "select prescription for second eye" If you have any further queries, you can contact us on info@alensa.co.uk.
Kind Regards, Team Alensa
Excellent comfort and vision for a lens of this type
Are Biotrue oneday for presbyopia new? I've been using the biotrue solution for years and am satisfied with it. Would be interested to try the lenses too. Do you have samples?
Answer
Hi Karen, we're pleased that you're satisfied with Biotrue contact lens solution, and we think you'll like the Biotrue OneDay for presbyopia lenses, too. We don't offer samples, but check with your optician to see if they may be right for you.