Biotrue ONEday (30 lenses)
Smart
Alternative
Extra lubrication
UV filter
Money-back Guarantee
Smart
Alternative
Gelone Eye Drops 10 ml
Immediate and long-lasting relief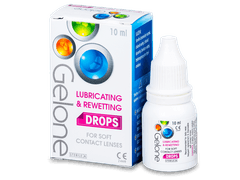 Soothes dry and sensitive eyes
Creates a film that protects the eyes
Can be used on all types of contact lenses
Reviews
293

of our customers recommend this product
Comments (2)
Do you have any questions
I dont appear to be able to select HIGH power for these lenses - bio true one day for presbyopia
Answer
Dear Nick,
We would like to bring the following to your attention, note the name would be Biotrue ONEday for Presbyopia (30 lenses) then.
You may find them here: https://www.alensa.co.uk/…ia-30-lenses
Thank you and good day, yours truly Alensa Team.
My Biotrue lenses I wear have an 'S' (spherical) written on the side of the box where the lot no and exp date are. This is not shown in your picture can you advise if they are different to the ones you have on your website please? Just want to check before I order them. Many thanks
Answer
Dear Johanna,
Please note that the 'S' that you are looking for is on some packaging of those lenses. The packaging may vary however these Bioture ONEday contact lenses is the same that you are currently using.
Also please note to put in your parameters carefully please.
Thank you.
Your Alensa-Team