1 / 1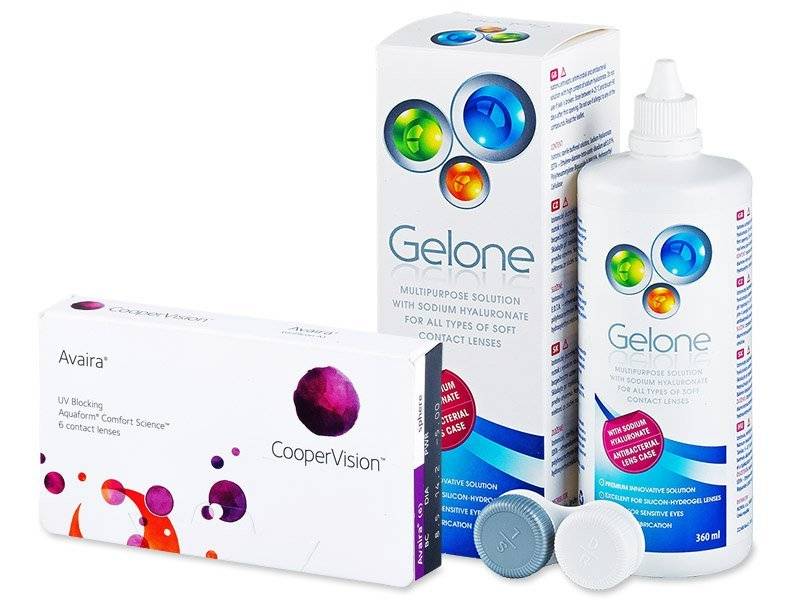 Package deal
Avaira (6 lenses) + Gelone Solution 360 ml
More than 1000 pcs
£26.38
Avaira (6 lenses) + Gelone Solution 360 ml
Free gift worth up to £6.79 for orders over £75.00
Avaira Bi-weekly Contact Lenses
Avaira Contact Lenses are produced by CooperVision and feature the brand's patented Aquaform technology. This technology helps bind water to the surface and interior of the lenses, thus ensuring long-lasting comfort. Avaira lenses also boast an exceptionally high level of oxygen permeability.
Read more about Avaira contact lenses
Gelone solution
Gelone is a multipurpose solution for cleaning and storing all types of soft contact lenses. Thanks to its unique composition, which was created by combining disinfecting ingredients and hyaluronic acid, Gelone solution is an excellent choice for even the most sensitive eyes. The cleaning components of the solution, along with the included antibacterial case with ionisation finish, create an excellent environment for disinfection. Sodium hyaluronate provides flexibility, softness, and moisture for contact lenses and wearers.
Read more about Gelone solution
Properties
| | |
| --- | --- |
| Manufacturer: | Soleko, CooperVision |
| Solution type: | Universal |
| Volume: | 360 ml |
| BC: | 8.50, 8.40 |
| DIA: | 14.20 |
| Pack size: | 6 lenses |
| Expiration: | 12 months and more, 24 months and more |
| Oxygen permeability: | 125 Dk/t |
| Replacement schedule: | 14 Days |
| Usability after opening: | 3 months |
| Water content: | 46% |
| Product name: | Avaira |
| Lenses Material: | Enfilcon A |
| Power range: | from -12.00 to +8.00 |
| Extended or overnight wear: | No |
| UV filter: | Yes |
| Contains Sodium hyaluronate: | Yes |
Reviews
This product doesn't have many reviews yet
Do you have any questions