1 / 2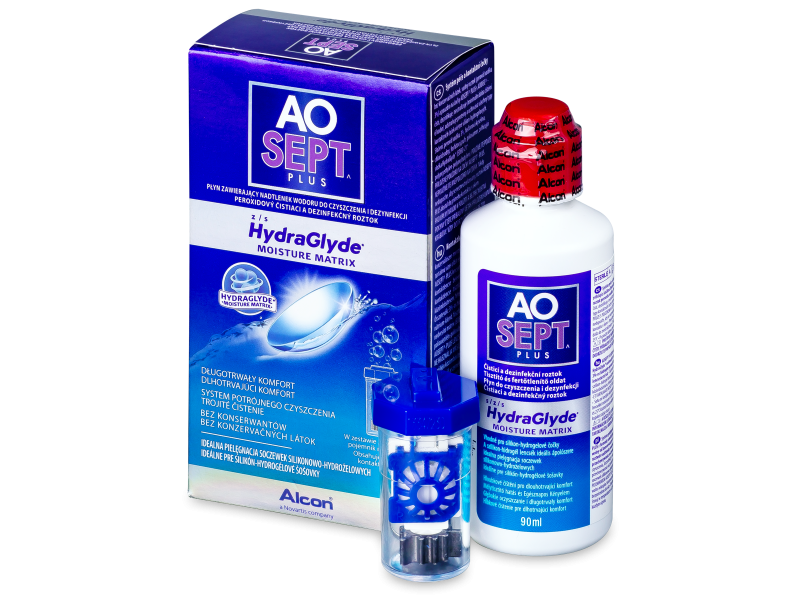 Cleaning solution
2 / 2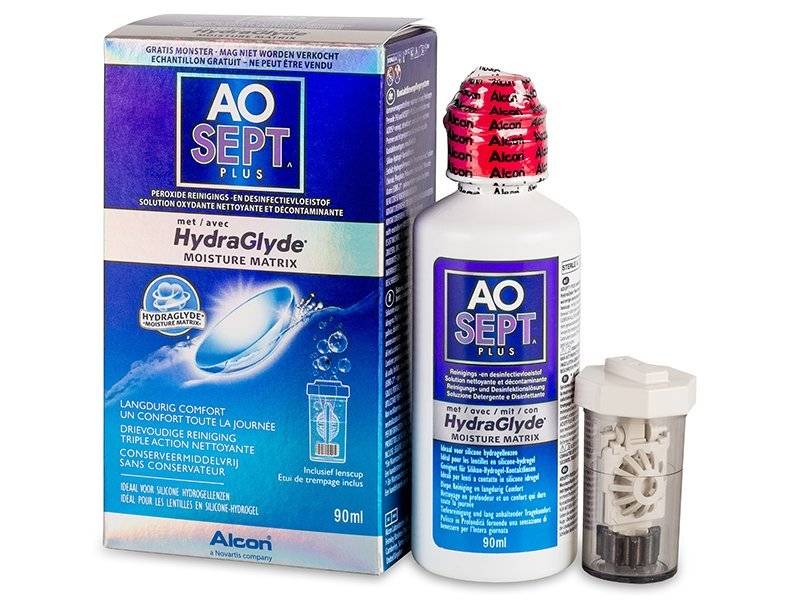 Previous design
AO SEPT PLUS HydraGlyde Solution 90 ml
More than 200 pcs
£5.99
AO SEPT PLUS HydraGlyde Solution 90 ml
Caution! This solution is peroxide. Please follow the instructions for using it!
Free gift worth up to £6.79 for orders over £75.00
Contact lens solution AO SEPT PLUS HydraGlyde®
AO Sept Plus HydraGlyde is a peroxide-based solution intended to disinfect all types of soft contact lenses. The unique HydraGlyde moisturising agent provides all-day moisture and comfort while wearing lenses. This special solution is packaged with an antibacterial case that contains the catalysing agent, AO DISC, which is necessary for the effective operation of the cleaning process. Each package contains a special contact lens case and a 90ml bottle of solution containing the HydraGlyde moisturising agent.
Note:
Never apply peroxide solution directly into the eyes, as it can cause serious injury.
Never use a flat contact lens case with peroxide solution. Use only the special case that contains a neutralising disc that is included with the solution.
Never remove the lenses from the special case before completion of the neutralisation process (at least 6 hours).
Never overfill the case with solution. Leaked and non-neutralised solution can inadvertently come into contact with lenses or your fingers, causing injury.
This is not a multipurpose solution. It is essential to wait for complete neutralisation (minimum 6 hours) during each contact lens cleaning with AOSEPT PLUS HydraGlyde® solution to prevent eye damage due to burns. Use following the advice of your optician.
You might be interested in: Hydrogen peroxide solutions and how to safely use them
GUIDE: How to Clean Contact Lenses
Read more about AO SEPT PLUS HydraGlyde Solution.
Properties
| | |
| --- | --- |
| Manufacturer: | Alcon |
| Solution type: | Peroxide |
| Expiration: | 16 months and more |
| Usability after opening: | 3 months |
| Volume: | 90 ml |
Reviews
This product doesn't have many reviews yet
Do you have any questions
Comments
Is this solution preservative free?
Answer
Hi, Anna, Yes, this solution is preservative-free.
Thanks, Alensa
Comments
Really like this solution. Keeps my lenses well hydrated.
Comments
Lenses are always fresh after using these.
Comments
Can I buy these products from Australia
Answer
Thank you for leaving a comment Stephanie. At this time, we do not ship to Australia.