Air Optix plus HydraGlyde (3 lenses)
Systane Ultra Preservative-Free eye drops 10 ml
Fast acting relief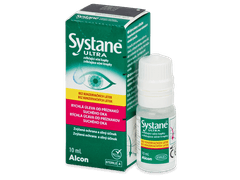 Recommended for dry, tired and irritated eyes
Easy dosing due to the Drop-Tainer bottle
Can be used with contact lenses
Advanced preservative-free formula
Reviews
192

of our customers recommend this product
Do you have any questions
Hello, I've been using Air Optix Plus HydraGlyde for a couple of years now but I can feel that my eyes cannot handle lenses anymore for a lot of time during the day. I am thinking of changing in bi-weekly lenses because I find myself changing lenses earlier than a month. Do you have any recommendation that matches the Air Optix Plus HydraGlyde? Thank you!!
Answer
Hi Marina. Please contact our customer service department at info@alensa.co.uk. Thanks, Alensa
Brilliant set. very comfortable and allow for long wearing, even late at night with NO discomfort.
The worse lenses i ever bought. From first secon in the eye they are uncomfortable and blurry. I can't belive they are so bad that i think they might be defective.
It's a great product.I have never had any sort of problem with them
Are Air Optix Plus powers available in +7.5? Having trouble finding a new brand that will accommodate this high prescrip. Thx.
Answer
Hi Sandra, Yes, the Air Optix Plus HydraGlyde are available up to +8.00. If you're interested in trying daily lenses, the Dailies Aquacomfort Plus are also up to +8.00. More information here: http://www.alensa.co.uk/…us-30-lenses