Air Optix for Astigmatism (6 lenses)
Delivery
2–3 Business Days
£2.90
1–2 Business Days
£5.90
1–2 Business Days
£3.90 – £4.90
Upgraded
product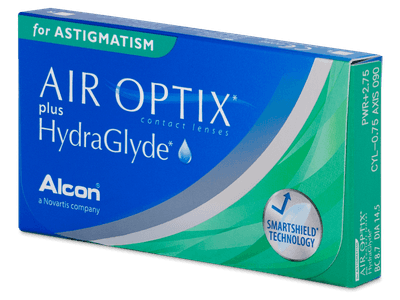 Upgraded
product
Systane Hydration Eye Drops 10 ml
Fast Acting Relief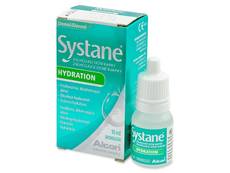 Rehydrates your eyes for relief that lasts.
Advanced dual ingredient formula with Hyaluronate.
Can be used with contact lenses.
Free Delivery
for orders over £49
Free Gifts
for orders over £75
Air Optix for Astigmatism Monthly Contact Lenses
Air Optix for Astigmatism are silicone-hydrogel contact lenses by Alcon designed to correct astigmatism with a monthly replacement schedule. The innovative, silicone-hydrogel material, known as Lotraflicon B, guarantees high oxygen permeability, which enhances the comfort of wear. This package of Air Optix for Astigmatism contains six lenses.
Read more about Air Optix for Astigmatism.


Regarding the oxygen permeability of these lenses, are you concerned about the difference between values indicated on our website and those on the box? No worries, they are completely the same! On our website, we use an industry-standard number showing oxygen permeability in relation to thickness of the lens – shown as (Dk/t). This is a value calculated by dividing the oxygen permeability of the lens (Dk) by the thickness of the lens (t). Most manufacturers provide a (Dk/t), which is why we've chosen to use it for all our products. However, your box of lenses may only show the (Dk) value. This just means that your box is showing the base value. It also means that there is, in fact, no difference between the number we show and the one that's on your box. 
Properties
| | |
| --- | --- |
| Manufacturer: | Alcon |
| DIA: | 14.50 |
| BC: | 8.70 |
| Pack size: | 6 lenses |
| Oxygen permeability: | 110 Dk/t |
| Expiration: | 12 months and more |
| Replacement schedule: | 30 Days |
| Water content: | 33% |
| Product name: | Air Optix for Astigmatism |
| Cylinder extra power: | from -0.75 to -2.25 |
| Power range: | from -10.00 to +6.00 |
| Lenses Material: | Lotrafilcon B |
| UV filter: | No |
| Extended or overnight wear: | Yes |
Great lenses for those of us with astigmatism. They sit well on the eye and feel good for the whole day. You really feel the benefit of the added moisture.
Are Air Optix AStigmatism suitable for dry eyes?
Hello Frank, Thank you for your question. Yes, these lenses have a very high oxygen permeability level, that makes them comfortable throughout the day. If your dry eye symptoms persist, we also offer a variety of suitable eye gels and eye drops for dry eyes. You can see these products here: http://www.alensa.co.uk/…-sprays.html
Do you have any questions
Comments
Confused by the packaging, what is the difference between the white box with green top and blue base (this is the packaging I am familiar with) and the other packaging which is mainly blue/green?
Answer
Thanks for your message. The contents is exactly the same. The updated packaging is slightly different but this is the only difference, everything else remains the same.
Comments
Hi, I have used these lenses ever since changing from the hard contact lenses. Please can you make these in daily form...no-one does and this is very frustrating.
Answer
Thank you for leaving a comment.
Currently the manufacturer does not provide the lenses in a daily form. You can see the full range of toric lenses available on our website here: https://www.alensa.co.uk/…-lenses.html
Comments
Are Air Optix AStigmatism suitable for dry eyes?
Answer
Hello Frank, Thank you for your question. Yes, these lenses have a very high oxygen permeability level, that makes them comfortable throughout the day. If your dry eye symptoms persist, we also offer a variety of suitable eye gels and eye drops for dry eyes. You can see these products here: http://www.alensa.co.uk/…-sprays.html