Acuvue Oasys 1-Day with HydraLuxe for Astigmatism (30 lenses)
Systane Ultra Preservative-Free eye drops 10 ml
Fast acting relief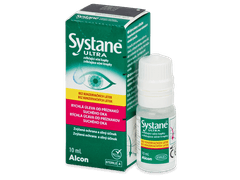 Recommended for dry, tired and irritated eyes
Easy dosing with PureFlow Technology
Can be used with contact lenses
Advanced preservative-free formula
Reviews
155

of our customers recommend this product
Comments (4)
Do you have any questions
Hi there, I need Acuvue Oasys astigmatism lenses for right eye but Just the normal Acuvue Oasys for the left . How do I order the different types please?
Answer
Hi Karen. In this case, you would have to order one box of each. You can find the Acuvue Oasys 1-Day lenses for spheric or basic correction here: https://www.alensa.co.uk/…ay-30-lenses Thanks, Alensa
Do you ship abroad to asia
Answer
Hi, Lenihan, Unfortunately, we do not ship to Asia at this time.
Thanks, Alensa
These lenses are honestly amazing...I hear they're comparable with dailies total 1 lenses but having not tried them I can't comment. I have been using acuvue moist for a few years now and struggled with comfort because they dried out very quickly in my eyes... These oasys lenses stay perfect for a whole day with ease. In fact even when you take them out at the end of the day there is no feeling of relief like I have with any other lense as it's really that difficult to tell whether they're in or out... Absolutely amazing... It's very easy to forget your wearing them even after 14 hours... I will only use these lenses going forward as the difference between them and the moist lense I'd like day and night.
What discount can you offer if I purchase 6 or 12 months supply upfront. ? I am able to purchase the same lenses for £40 per month without a bulk purchase from Costco stores. Many thanks Brett
Answer
Hi, Brett, Unfortunately, we offer no discounts in regard to the quantity of an order. However, please sign up for our newsletter to stay up to date with special offers and promotions!
Thanks, Alensa