Acuvue Oasys 1-Day (90 lenses)
Smart
Alternative
Block the blue light
Filter UV light
Reduce eye fatigue
Smart
Alternative
Systane Ultra Preservative-Free eye drops 10 ml
Fast acting relief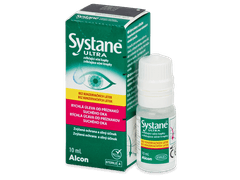 Recommended for dry, tired and irritated eyes
Easy dosing with PureFlow Technology
Can be used with contact lenses
Advanced preservative-free formula
Reviews
34

of our customers recommend this product
Comments (7)
Do you have any questions
Hi,i have minus 12 at the both eye,if i use this poduct i didnt need glases?
Answer
Hi Ionuț. Yes, these lenses can be used interchangeably with or as a replacement for your glasses. However, you should always consult your optician before purchasing to ensure contact lenses are right for you. Thanks, Alensa
Hello I can get the same lenses from Lenstore for less money, di you offer a price match please ?
Hi there - I've been paying a subscription to Boots for some time now and wonder if you can provide the same service a bit cheaper. I'm obviously concerned that I order the right product so have scanned my current lenses - can you email me so I can send the scan and get a quote?
What is dia. 14.30. When ordering please??
Answer
Hi, Tracey, The DIA is the diameter for the shape of your eye. It should be noted on your prescription.
Thanks, Alensa
Arrived on time, packaged well and long expiry date.
Re: Acuvue Oasys 1-Day (90 lenses) Can you please tell me what the expiry date is for these lenses?
Answer
Hi, Dipesh, All of our lenses have a standard usability time-frame of 2-4 years.
Thanks, Alensa
Great for my dry eyes, been using these for a while. They're easy to put in and I can wear them for most of the day. Ordered on the Wednesday and got them on the Friday.