Acuvue Oasys 1-Day (30 lenses)
Smart
Alternative
Block the blue light
Filter UV light
Reduce eye fatigue
Smart
Alternative
Systane Hydration Eye Drops 10 ml
Fast Acting Relief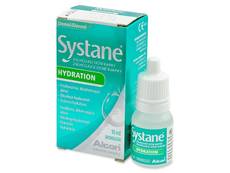 Rehydrates your eyes for relief that lasts.
Advanced dual ingredient formula with Hyaluronate.
Can be used with contact lenses.
Free Delivery
for orders over £49
Free Gifts
for orders over £75
Acuvue Oasys 1-Day Contact Lenses
Acuvue Oasys 1-Day from Johnson & Johnson are silicone-hydrogel lenses produced with the manufacturer's pa­tented HydraLuxe technology to ensure your eyes stay fresh and comfortable all day. These lenses are an excellent choice for those with sensitive eyes or allergies.
Acuvue Oasys 1-Day are also available in a box of 90 lenses.
HydraLuxe technology
Lenses designed with HydraLuxe technology contain molecules that are biologically similar to human tears. Moisturising agents are embedded in the lens material, not only on its surface. This enables the lenses to help prevent the symptoms of dry eyes and other discomforts. These molecules enhance the eye's natural tear film and ensure a healthy and comfortable fit.
Convenience and protection
One-day contact lenses are considered the healthiest option for lens wearers. Using a new pair of lenses each day significantly decreases the risks of unpleasant infections. It also eliminates the need for lens-care solutions and lens cases.
Acuvue Oasys 1-Day contact lenses are also equipped with UV filters that block 90% of UVA and almost 99% of UVB radiation. However, because the lenses only cover a portion of the eyeball, it is still recommended to wear sunglasses to better protect the entire eye area from sun damage.
Properties
| | |
| --- | --- |
| Manufacturer: | Johnson and Johnson |
| BC: | 9.00, 8.50 |
| DIA: | 14.30 |
| Pack size: | 30 lenses |
| Replacement schedule: | 1 Day |
| Expiration: | 12 months and more |
| Oxygen permeability: | 121 Dk/t |
| Water content: | 38% |
| Product name: | Acuvue Oasys 1-Day with Hydraluxe |
| Power range: | from -12.00 to +8.00 |
| Extended or overnight wear: | No |
| Lenses Material: | Senofilcon A |
| UV filter: | Yes |
Perfect lenses for my dry eyes. Can wear these for the whole day.
Been wearing these for around a year and they're great daily lenses.
I have no problem wearing these all day. I can get through my working day and not have to worry about these drying out or getting uncomfortable.
Do you have any questions
Trial Lenses
My husband has been using Acuvue True Eye lenses but has found they are becoming uncomfortable. He has had a lens check and he is wear ing the correct prescription & fit. He wears lenses 3-4 days a week, for 4-6 hours and I wondered if these Oasys lenses might be better as he has a little dry eye on occasion. I am reluctant to order without trying, and wondered if you offer a sample pair for him to test? Thank you.
Answer
Hi, Amanda, Please contact our customer service department at info@alensa.co.uk.
Thanks, Alensa
Comments
Looking for Oasys L:8.50/14.50 Can you help with this prescription please.
Contact lenses
Hi I just wondered if you sell Acuvue oasys with Hydraluxe for Astigmatism . I can see this brand on your website but my box of contacts looks slightly different as it has a yellow astigmatism sign on the box above the blue 1 day circle .
Answer
Hi, Samantha, Unfortunately, we don't yet sell Acuvue Oasys with HydraLuxe for our astigmatism line. However, we hope to have more optimistic news in the near future!
Thanks, Alensa