About Us - Alensa
Alensa is a reliable online seller of contact lenses, prescription glasses, sunglasses & eye care products. Our main objective is to provide quality, great service and to have satisfied, loyal customers. Learn about our company and shop with us!
Original products at low prices
We only sell original products and contact lenses supplied directly by authorised manufacturers. The products we offer are exactly the same as those sold by familiar opticians and high street retailers.
Because we are active in a large amount of different countries and have such a large customer base, we are able to acquire our products from producers at lower prices. We operate exclusively online, which drastically reduces our overhead operating costs. Therefore, every discount that we receive from our manufacturers and every cost that we are able to save translates directly into low prices for our customers. In short, we are able to offer you the same high-quality products that you are accustomed to but at much lower prices.
A network with years of experience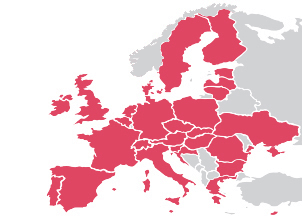 The Alensa brand network, which includes Alensa.co.uk, has been operational since 2007 with the launch of our first e-shops in the Czech Republic, Slovakia and Austria. Over the past 10 years, our brand has grown and expanded to serve nearly all of Europe. The knowledge and experience we have gained over time has helped us develop an extensive catalogue of products, a dedicated customer service team, and thousands of satisfied customers.
Currently the Alensa network consists of: Austria, Belgium, Bulgaria, Czech Republic, Croatia, Denmark, Estonia, Finland, France, Germany, Greece, Hungary, Ireland, Italy, Latvia, Lithuania, Malta, Netherlands, Poland, Portugal, Romania, Slovakia, Slovenia, Spain, Sweden, Switzerland, UK and Ukraine.
Large inventory and satisfied customers
We are proud to maintain a large inventory of products with more than 500.000 boxes of lenses in stock at all times. This allows us to ship nearly 97% of orders on the same day they are made.
We process approximately 100.000 orders each month, and our dedicated staff of 100 are here to serve you.
Trained and seasoned opticians take care of grinding, fitting and testing prescription lenses for our glasses, so you can be sure to receive quality glasses when ordering them with us.
At Alensa, a lot of time, care, and effort goes into providing our customers with quality products and services. We make sure delivery is fast, all products are up to the high standards you have come to expect, prices remain the lowest available on the market, and our customer service team can provide you personalised and attentive assistance.
If you have any questions, problems or concerns, don't hesitate to contact us. We'll reply to your queries as soon as possible. We value your feedback, and it's this input that allows us to continue to grow and improve your customer experience.
Contact details
Contact us online here
Return address:
Please note that the following address is only a receiving centre and cannot field customer requests nor can orders be collected here.
Alensa.co.uk
Unit 51
219 Walworth Road
Elephant & Castle
London SE17 1RL

Registration and operations
All of the products and services are supplied by the main operator of the Alensa network. Our logistics centres are based in the Czech Republic. Our site Alensa.co.uk is operated by Alensa s.r.o., registered at the following address:
Alensa s.r.o.
Českomoravská 2408/1a
190 00 Praha 9
CZ VAT number: CZ27179681
UK VAT number: GB207896378

Important additional information:
Use of the Alensa website and the establishment of a purchasing contract with Alensa, always happens in accordance with our terms and conditions, so please pay extra attention to reading those. Helpful information may also be found on our various pages devoted to customer care and practical info.