Send us your prescription for eyeglasses and get a £5 discount

Have you recently visited your eye care specialist to get your eyesight checked and are you now looking for a new pair of glasses? Well, look no further! Here at Alensa, we are offering you a £5 discount for new eyeglasses, and all we need is your prescription. Simply send it to us at info@alensa.co.uk and get your discount now!
What will you need to do to get this £5 discount?
Have your eyes examined by an ophthalmologist or optometrist.
Send the prescription provided by your ophthalmologist or optometrist to info@alensa.co.uk, which should include all necessary numbers and parameters for glasses -- for example, a cylinder and axis value in case you have an astigmatism. This prescription shouldn't be older than 6 months. Make sure your ophthalmologist or optometrist includes a "PD" value as well.
Once we've reviewed your prescription, we will send you a unique discount code that you can enter when buying glasses from Alensa.
Enter the code in the appropriate spot in your shopping basket, and £5 will be deducted from the total cost of your new glasses.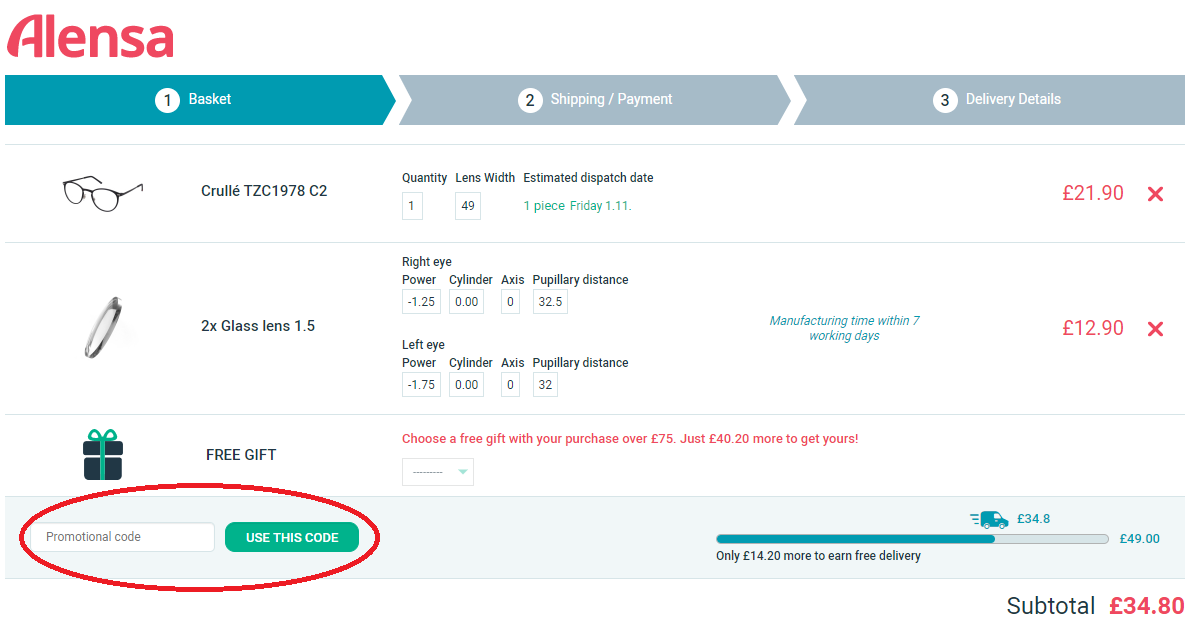 What are the advantages of buying prescription glasses online from Alensa?
You can buy a quality pair of complete Crullé glasses starting from just £29.80 after applying this discount.
You can try out glasses using our virtual mirror to see how they'll look on you.
Your lenses will be equipped with the most advanced filters and coatings, such as a UV filter, a glass hardening, an anti-reflective coating, a self-cleaning coating, a superhydrophobic coating, and an oleophobic and anti-static coating.
You will get quality glasses almost identical to your optician's brands for just a third of the price.
You can pick from over 3,000 world-renowned original brands and models; this discount applies to all of them!
Seasoned professionals will carefully craft and test your glasses before shipment.
Free shipping for any order over £49.
Once your glasses are completed --please note, not immediately after ordering-- you'll receive them within just 5-7 working days.
If you want to know more about interpreting a prescription for glasses and ordering online, please read: How to read a prescription for eyeglasses?
Our customer service is ready to help you answer any questions you might have:
Tel.: +442080892245
E-mail: info@alensa.co.uk