1 Day Acuvue TruEye (30 lenses)
Smart
Alternative
Extra lubrication
UV filter
Money-back Guarantee
Smart
Alternative
Systane Ultra Preservative-Free eye drops 10 ml
Fast acting relief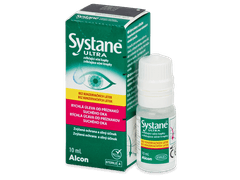 Recommended for dry, tired and irritated eyes
Easy dosing with PureFlow Technology
Can be used with contact lenses
Advanced preservative-free formula
Reviews
300

of our customers recommend this product
Comments (11)
Do you have any questions
I've been using these contact lenses for many years, never had any complaints. Very happy with them :)
Why does it take so long to deliver. Are you in Eastern Europe?
Answer
Hi James,
Thank you for your recent comment. Our main offices are based in Central Europe (Czech Republic) this can take 2-5 days to reach you from dispatch on our standard delivery, we do however also offer an express delivery (DHL) which guarantees the items to be with you within 1-2 working days.
I think Dailies Total 1 is better if not a bit more expensive.
Comfortable lenses and buying them online is perfect. Really convenient to get them delivered when I want.
Had problems wearing lenses all my life, the Acuvue Moist were pretty good but the TrueEye are perfect. I keep forgetting to take them out at night as I forget I am wearing lenses at all. Please make a TruEye lens for astigmatism soon!
is there such thing as 1 day acuvue trueye astigmatism lenses? needing dailies for astig. thx.
Answer
Hello Bettina, Acuvue's TruEye lenses are not available for astigmatism, but their 1-Day Acuvue Moist for astigmatism lenses may be suitable for you. You can find all information about these lenses here: http://www.alensa.co.uk/…sm-30-lenses
Hello there, do you supply Acuvue Trueye astigmatism lenses?
Answer
Hi Brian, we don't have Acuvue Trueye for astigmatism, but you may try 1 Day Acuvue Moist for astigmatism, which are comparable daily toric lenses. http://www.alensa.co.uk/…sm-30-lenses
I am wondering about the 1 day acuvue trueye material. Is it as good as the acuvue moist? I am considering changing to these lenses, but worry about my dry eyes.
Answer
Hello Clarice, both materials provide excellent moisture and comfort. The Acuvue TruEye lens material is called Narafilcon A, and it allows exceptionally high oxygen permeability.
Excellent price. Was a bit unsure at first, but very glad I've discovered your site. Authentic and easy to order.
Best price i've found online. Delivery took a little longer than expected, but well worth the wait for this price and service received. Many thanks.
My optician recommended me Acuvue Trueye contact lenses since she found out that I suffer with dry eyes. I have never tested any other contact lenses but these are really good.