1 Day Acuvue Moist Multifocal (30 lenses)
Systane Ultra Preservative-Free eye drops 10 ml
Fast acting relief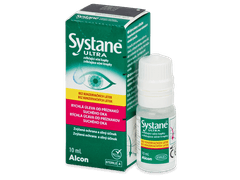 Recommended for dry, tired and irritated eyes
Easy dosing with PureFlow Technology
Can be used with contact lenses
Advanced preservative-free formula
Reviews
187

of our customers recommend this product
Comments (18)
Do you have any questions
I normally wear Biofinity monthly multifocals but find they are only lasting 2 weeks. I am thinking on trying Daily multifocals, but my b/c Is 8.6 and dia is 14.0 and can't find anything along that lines..
Answer
Hi Kevin. Please contact our customer service department at info@alensa.co.uk. Thanks, Alensa
the 'add power' selection. if power is 1.25, and I select additional power of +1.5 to 1.75, will this make the lenses , is the additional power added to original power? to make a lens that can be used for +1.25, and also +2.75 to 3.0? OR is the highest correction on the lens just +1.75?
Answer
Hi, Trevor, These lenses are multifocal--for the correction of presbyopia--so the additional powers are indicative of the gradations of the lens, while the power itself is simply the spherical strength.
Thanks, Alensa
I have acuvue Oasys fortnightly lenses after using monthly ones for a long time but found that the thickness of them were causing a lump under my eyelid. The same thing was starting to happen again so was not getting the full use of them and wearing them for only a few days during the 14 day period. A friend has recommended you for dailies. My question is, will my prescription be the same as my fortnightly ones? Thank you
Answer
Hi, Maureen, Yes, your prescription will be the same provided it is the same kind of correction.
Thanks, Alensa
At the moment I am using Bausch and Lomb purevision multi-focal monthlies and I have because of dry eyes been advised to change to multi focal dailies, and told to try 1 Day Acuvue Moist Multifocal however I have the info on my origanal box but it does not marry up with what your showing on the acuvue help please my box says BC 8.6 PWR+2.50 ADD HIGH
Answer
Hi, Terry, Please contact our customer service department at info@alensa.co.uk.
Thanks, Alensa
I wear single focal lenses at present +1.5 in both eyes, but I am have to supplement these with glasses when I read now - I would like to trial multifocal lenses i.e. +1.5 with Mid addition to see if I can get on with these. Are you able to supply me with some test pieces please ?
Answer
Hi, Michael, We are not licensed optometrists, so, unfortunately, we are not able to supply trial or sample lenses.
Thanks, Alensa
Hi, I wear Air Optix multifocal monthly lenses but want to get some dialies to take away on holiday. The BC on my boxes say 8.6 and Dia 14.2, but the Above on your order says BC8.4 & Dia 14.3. Does this mean yours will not work for me please? My prescription is -8.00 Hi & -6.50 Hi
Answer
Hi, Lynda, Could you please contact our customer service department with your prescription?
Thanks, Alensa
I use Acuvue moist with lacreon multifocal. On one box it says BC 8.4 DIA 14.3 then D +1.25 max add +1.75 mid The other says D + 0.75 max add +1.75 mid Can I have a price for 30 pairs, thanks
Answer
Hi, Neil, The current price for 30 pairs of lenses would be £36.96.
Thanks, Alensa
I have some lenses on trial and things seem fine. I just need help to ensure I order the right lenses. On my box I have D +1.25 High , Max Add +2.50 then use by date I think 2023-08-01 Can you advise how I order Many thanks Steve
Answer
Hi, Steve, It should be a regular power of +1.25 and an add power of High (+2.00D-+2.50D).
Thanks, Alensa
How quickly can +4.75 and +5.25 contact lenses be delivered to Holywood, Co. Down if I order them now please? Thank you
Answer
Dear Sir/Madam unfortunately once you make an order we will ship it today or tomorrow (depending on what time you place the order), meaning you will receive your order next week!
I have some trial lenses from CooperVison with BC 8.7 & a Dia of 14.2, will the Acuvue lens fit?
Answer
Hi, Robert, Please contact Alensa customer service.
Thanks, Alensa
I have used Acuvue TrueEye (and whatever its predecessor was called ) for 10 years, and monthly lenses for 20 years before that but only this summer I decided to try multifocal lenses to reduce my reliance on reading glasses. My optician arranged for a trial of Alcan lenses. I was very disappointed to find they made virtually no difference, so I decided to order a month's supply of Acuvue Dailies in case they were better than Alcan and chose Alensa as the supplier as they appeared to be cheaper and quicker than other suppliers. The lenses turned out to be excellent (though they are extremely thin ) and Alensa were very efficient too. I'm writing this review in the middle of ordering another 2 months supply!
I have been wearing contact lenses for 10 yrs and have always used another well known brand. I recently moved house and changed opticians so went for a check up. My prescription hadn't changed but they didn't stock my usual lenses so I was given a free trial wwith these Acuvue moist. I can honestly say they are superb. My vision is the best its ever been and I can see clearly at all ranges. The comfort is another big improvement. I no longer feel I have lenses in. I have also changed from monthly to dailies and feel much happier not having to go through the whole cleaning routine, plus if I lose a lense its not the end of the day as I have plenty of extras. All in all I couldn't be happier.
Answer
Hi, Gary, We're super happy to hear about your positive experience with these lenses:)
Let us know if you have any questions!
Thanks, Alensa
If I order express on Saturday, when should I receive the contacts
Answer
Hi, Shyin, Our shipping partners don't usually deliver on weekends, so ordering express on Saturday should get to you by Tuesday.
Thanks, Alensa
Hi I was prescribed Clariti 1 day multifocal (L 0.00 Add HIGH and R +125 Add LOW) but the BC is 8.6 and DIA is 14.1. I want to change to Acuvue Moist but the BC is 8.4 and DIA is 14.3 which is different and they don't do the 8.6/14.1. Can I still change and will it make any difference?
Answer
Hi, Kate, Of course, it is always better to check with an optician, but small differences shouldn't be a debilitating issue!
Thanks, Alensa
My right eye lens should +1.75 +2.50 Do you have this available?
Answer
Hi, Christina, Thank you for your recent comment. It doesn't look like we have that prescription at the moment. However, we're constantly updating our stock, so hopefully we'll have more optimistic news for you in the future. Please feel free to contact us should you have any further questions!
I have been wearing Air Optix multifocals for the past 7 years. However, I have found over the last couple of years that monthly multifocals sometimes irritate my eyes and, although I have the best distance vision with these, I sometimes have to wear mono focal dailies (Acuvue Moist) which have much better close up focus but I lose the distance (unable to drive at night in them). Although the multi-focal dailies are much more expensive, I would like to try them again to see if my vision is the same as with the monthlies when my eyes need a rest. However, the 'Add Power' is confusing as the daily multifoca 'Add Power'l is different to the monthly lenses, particularly for the left eye. My monthly contact lens perscription is: Left: PWR +1.00 med (Max Add +2.00) Right: PWR +1.50 Hi (Max Add +2.50) What would be the equivalent for Acuvue daily multifocal contact lenses?
Answer
Hi, Sue, Thank you for your recent comment. According to your prescription, you need 1 Day Acuvue Moist Multifocal with the add power High (+2.00D, +2.50D) for both eyes so you ordered correctly. But those lenses have different BC and DIA than the monthly Air Optix Aqua Multifocal and are made from a different material (Air Optix silicon-hydrogel Lotrafilcon B and 1 Day Acuvue hydrogel Etafilcon A) so it might be the case that the daily lenses will not be so comfortable for you - just be aware!
Let us know if you have any further questions!
Great comfort and acceptable vision for a multifocal lens
These are the first multifocal lenses that I feel genuinely suit me. I mostly wear glasses but when I do wear contacts I always pick these so being able to but 1 or 2 packs online suits me.