1 Day Acuvue Moist for Astigmatism (90 lenses)
Systane Ultra Preservative-Free eye drops 10 ml
Fast acting relief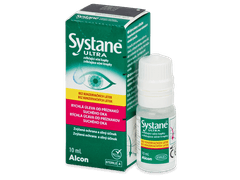 Recommended for dry, tired and irritated eyes
Easy dosing due to the Drop-Tainer bottle
Can be used with contact lenses
Advanced preservative-free formula
Reviews
24

of our customers recommend this product
Do you have any questions
Why would you have my rx in 30 pack at 4.00 higher per pack, but not have them in 90 pack , which appears to be nothing more that 3x30 packs? How much is shipping cost to the United States? Regards, Phillip
Answer
Hi, Phillip, We have it that way because it is successful. Unfortunately, we do not yet ship to the United States.
Thanks, Alensa
these seem tp be what i'm looking for but I am dubious about buying 3 months supply. Is there a small trial pack I can try first?
Answer
Thank you for your recent comment. Unfortunately, due to the conditions laid out by the manufacturer, we are not authorized to issue any trial lenses. We do however offer a 1 months supply of these lenses which you can find on this link:https://www.alensa.co.uk/…sm-30-lenses. If you have any further queries you can contact us on info@alensa.co.uk
Kind Regards, Team Alensa
Delivery took a little longer than I'd've liked, but they did warn me :) Excellent lenses though. Thanks Alensa
well worth the price for the comfort and convenience.
Probably the best toric lenses I´ve tried. They suit me best.