1 Day Acuvue Moist for Astigmatism (30 lenses)
Systane Ultra Preservative-Free eye drops 10 ml
Fast acting relief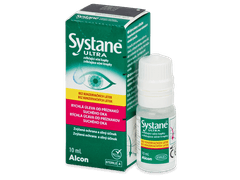 Recommended for dry, tired and irritated eyes
Easy dosing with PureFlow Technology
Can be used with contact lenses
Advanced preservative-free formula
Reviews
374

of our customers recommend this product
Comments (25)
Do you have any questions
Answer
Hi, At this moment we do not ship to the USA, feel free to contact our customer support at info@alensa.co.uk if you have any more questions.
Will you ever introduce different types of payments like klarna
Answer
Hi, Amy, We are always updating and expanding our website's service to give you the best products with the most user-friendly platform. We invite you to follow our newsletter: https://www.alensa.co.uk/…sletter.html
Thanks, Alensa
I use hard permedable contact lenses can i use these type of lenses thanks
Answer
Hi, Mary, Unfortunately, these are not the same kind of lenses. We encourage you to consult with your optometrist before proceeding.
Thanks, Alensa
These lenses were nowhere near as good as my usual monthly ones at the same prescription. The provided very poor distance vision correction, I could not read presentations, traffic signs or bus numbers, nor recognise approaching people. The lenses were so moist and thin they curled up on my finger as I took them out of their packets and were difficult to unroll back into shape. Disappointing.
hello, I have two questions. 1.) The DIA for my right eye is 14.20, Whilst my left is 14.50. Am I able to use these lenses? 2.) it says 30 lense per box, does that mean 30 for each eye so you really get 60 lenses?
Answer
Hi, Didi, Thank you for your recent comment.
If you use the wrong diameter for an eye, it can cause irritation and abrasion for that, rendering extreme discomfort. However, having different DIA's for each eye is a bit unusual. If you could send me a prescription, I can verify.
30 lenses per box will be 30 lenses for one eye, with a second box having 30 lenses for the other eye.
Please feel free to contact us should you have any further information.
Do you have them in multifocal ?
Do they have blue handling tint ?
Having trouble filling in my order could I just email you a photo of my prescription ?
Answer
Hello Chris,
Thank you very much for your comment.
We have emailed your personal email with further information.
My BC is 8.7 . Will these be ok
Answer
Hi Annie, 1 Day Acuvue Moist for Astigmatism lenses are produced with a standard BC of 8.50 mm. Generally, if your BC is within 0.20mm of this, you will not notice any difference in quality of vision or comfort. If you are concerned about this, though, or if you are changing to a new brand, it's always best to consult with your optician first.
Are these toric lenses? What kind of lenses are these? Will a person who normally wears toric notice any difference to there vision?
Answer
Hi Sam, Yes, 1 Day Acuvue Moist for Astigmatism are toric lenses. If you are not familiar with this brand, we do recommend consulting with your optician before changing to a new brand of toric lenses. You can find all of our toric lenses for astigmatism here: http://www.alensa.co.uk/…-lenses.html
Good afternoon- I'm interested in 1 Day Acuvue Moist how many in a box please? is it 30 lenses or 30 pairs? Just working out how many to buy
Answer
Hello Kamran, the box of 30 contains 30 individual lenses, not 30 pairs. If you have a different prescription in each eye, you will need a minimum of 2 boxes. You can also buy them in packs of 90 lenses at a better value http://www.alensa.co.uk/…sm-90-lenses
Do you have 1 day acuvue moist for astigmatism color lenses?
Answer
Hello Chanelle, Unfortunately we do not stock toric coloured lenses at this time. We offer a variety of coloured lenses with zero optical power if you wish to change your eye colour while wearing glasses. You can shop all of our coloured lenses here: http://www.alensa.co.uk/…-lenses.html
Hi do you sell 1 day acuvue moist multifocal? thanks.
Answer
Hello Angel, We don't have Acuvue multifocal lenses, but we offer a variety of other excellent multifocal lenses, including dailies. Have a look at our offers, and we recommend discussing your options with your optician before making a selection. http://www.alensa.co.uk/…-lenses.html
Can you wear 1 day acuvue moist overnight?
Answer
Hi Kevin, 1 Day Acuvue Moist brand contact lenses are intended to be discarded at the end of every day. They should not be worn overnight.
What is the 1 day acuvue moist for astigmatism power range? I require -11.0, and am wondering if I can even wear contacts at all?
Answer
Hi Corelle, unfortunately 1 Day Acuvue Moist for astigmatism stop at -9.00. You can try our TopVue Air for Astigmatism lenses, which go up to -12.00 http://www.alensa.co.uk/…ism-3-lenses
I've shopped around on line, and this truly is the best price around. Glad I did my homework and found your site
Great price for these lenses. Much lower than my optician is charging. Well worth the wait time, Thanks.
Best price I've seen on Acuvue dailies. I'll be very happy to buy from you again. Cheers.
Great price on this product. The best I've seen, so definitely worth the wait time.
Great shop to order from, all good..
Normally I wear glasses but when it comes to contact lenses I use only these daily moist.