1 Day Acuvue Moist (30 lenses)
Smart
Alternative
Extra lubrication
UV filter
Money-back Guarantee
Smart
Alternative
Systane Ultra Preservative-Free eye drops 10 ml
Fast acting relief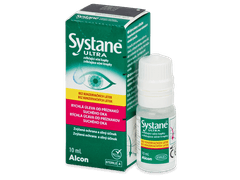 Recommended for dry, tired and irritated eyes
Easy dosing with PureFlow Technology
Can be used with contact lenses
Advanced preservative-free formula
Reviews
343

of our customers recommend this product
Comments (9)
Do you have any questions
how do i read my recent prescription - I would like the lenses for long distance but my prescription is for verifocals so I am not sure which part is for long distance and which is for close reading
Answer
Hi Elizabeth. Please contact our customer service department at info@alensa.co.uk. Thanks, Alensa
Do I. Need a prescription to purchase
Answer
Thank you for your recent comment. To order lenses online you do not need to provide us with a copy of your prescription but by agreeing to our terms and conditions upon placing your order, you are affirming that you are in possession of a valid prescription, which must be no more than 12 months old. All further info on ordering your lenses online can be found here: https://www.alensa.co.uk/…ription.html
Really comfortable and clear. My eyes don't dry out wearing these lenses.
Super convenient lenses, changed recently to dailies for convenience and these lenses are perfect.
Hi there do you have the 1 day acuvue moist 90 pack? I don't see the option to choose here. Thanks!
Hi. DO you have 1 day acuvue moist colors? Having trouble finding a reputable daily colored lens. Any advice?
Answer
Hi Dava, unfortunately Acuvue doesn't produce daily coloured lenses. You may want to try TopVue Colors - our house brand comes with a money-back guarantee. Check out the colours here: http://www.alensa.co.uk/…new-2-lenses
Do acuvue one day moist material contain silicone hydrogel? I find the lenses to be more comfortable than before, and I read that this material is excellent. Please advise.
Answer
Hi Michael. The 1 Day Acuvue Moist lenses are hydrogel lenses, while the comparable 1 Day Acuvue TruEye lenses are made from silicone hydrogel. Both lenses offer superior comfort and moisture. Read more about TruEye here http://www.alensa.co.uk/…ye-30-lenses
Great feeling. Big improvement over the previous 1 day acuvue.